Spotify v. Pure Music
On-line tunesmiths sounded out
Facebook foibles
Spotify also 'became friends' with Facebook (i.e. entered a commercial arrangement) in September 2011. It means new users must have a Facebook profile. Previously existing users can link to Facebook and Twitter but they don't have to. It's easy to set-up an account, including paid options, and you can stop or restart payments any month without losing stored playlists. Spotify uses a desktop application for Windows, PC and, unofficially, Linux. Premium customers can download a slick phone app with useful offline playback.
Pure Music runs mainly through its website. At the time of testing there's one sample month but no ongoing free option. It costs £4.99, matching Spotify Unlimited, and you are not compelled to use Facebook. There are non-subscription aspects to the Lounge, which has been around since 2009; you can buy tracks or albums and stream them to compatible Pure radios. Alternatively, some Pure radios feature Pure Tag, a built-in Shazam-based music ID software that enables music purchasing from the device or later from the tagged listing using the website.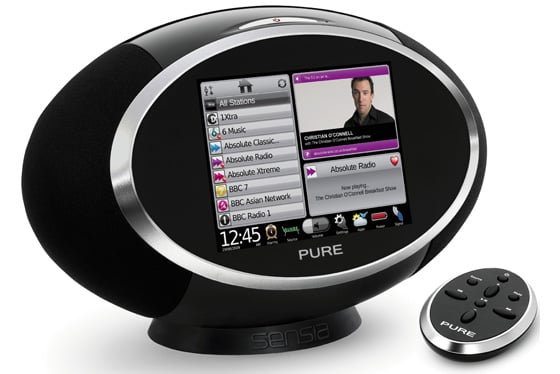 Pure's Sensia includes Pure Tag music identification and purchasing from the device
Pure Music expands on that by streaming from an online catalogue using the browser, a suitable Pure Radio or an Android or iOS mobile. In contrast to Spotify, it doesn't cost more to access its smartphone version, however, there's no offline caching so beware of data use. As of February 2012 the apps are free to install, but only for a limited period.
Spotify's desktop program is generally well laid out and user friendly. Its punchy white text on 70 per cent black is different to the pale, desaturated look of Pure Music, which shows a heavy iTunes influence.
Later in 2011 Spotify added a selection of free apps within the program, acting as shortcuts to curated playlists from the likes of Pitchfork, Rolling Stone and The Guardian. On top of the subscriber-only Artist Radio feature (recommended tracks using a chosen singer or band as a starting point), it's a handy way to discover new things. The related artist recommendations are largely accurate and helpful. For example, look up Radiohead and it suggests Jeff Buckley, REM, David Bowie and more.
To buy something, click 'get' in the program and verify your password. Individual tracks can be starred for finding later or saved into playlists, which can be shared among the Spotify community. In a controversial move, sharing new playlists and what you're listening to is now active by default. There's a private listening mode and more permanent settings in user preferences.
Sponsored: Minds Mastering Machines - Call for papers now open