Spotify v. Pure Music
On-line tunesmiths sounded out
Review Spotify began as the cool on-line portal that set a high benchmark for music streaming services. It's now a fast growing, song spewing giant but it is not alone, as entertainment corps and smaller contenders want a piece of the action too.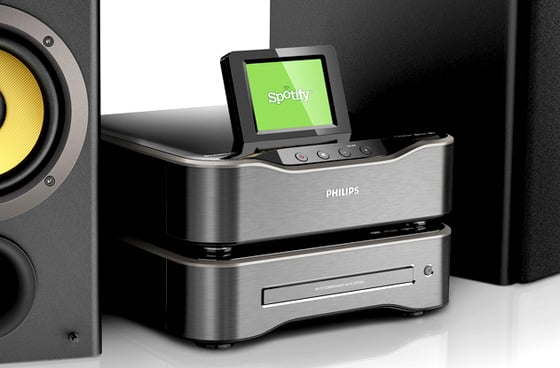 Philips Streamium with Spotify
Spotify competes with long-established internet music retailers using various business models. They include à la carte purchasing of iTunes, eMusic's monthly allocation of downloads, music discovery jukeboxes such as Last.fm and direct music streaming competitors. Apart from Napster and Deezer, which recently spread to the UK, the choice of streaming services is wider overseas. They include Mog, Rdio and Rhapsody, which recently bought Napster's European operations in an expansion drive.
Recent restrictions on Spotify's popular free offering obviously intended to push people to subscribe. However, it will have nudged some people elsewhere. The latest rival is from the UK's digital radio specialist Pure. The ambitious service, called Pure Music, is built on its pre-existing Lounge portal, which was its first move at creating a platform to complement its range of network-connected hardware, such as the Evoke Flow and Sensia radios. Though new, it draws from a large library and is a close Spotify alternative. So how to they compare?
Unlike most legit music services, Spotify has a free ad-supported option, with short adverts sprinkled between every few tracks. It enabled full access to millions of songs, with a limit of 20 hours of use a month. In April 2011 it changed this 'free lunch' into a light snack. Now songs can only be played up to five times and you can't go over ten hours a month of usage.
So if there's something you really like, you have to buy it or subscribe to Spotify Unlimited at £4.99 per month or Premium at £9.99. As the name suggests, Unlimited removes playback restrictions and ads. Premium enables access on other devices and higher quality sound. There are usually trial periods to sample the Premium lifestyle. Once you have, it's hard to go back.
COMMENTS
Spotify Comments
I've used Spotify for a while now, got to be at least a couple of years, and for all of that I've been paying for the £4.99 package except for the first month I discovered the service.
Music does disappear, and I wish they'd post something about it rather than having it just "go grey" in your list. Sometimes when my complete playlist is on random it's months until I finally realise something I was listening to hasn't played for ages.
It is also missing the majority of stuff by some of my favourite artists such as Metallica, Lacuna Coil, Rammstein, Red Hot Chili Peppers, and others. Unfortunately for said artists, their lack of appearance on Spotify doesn't make me go out and buy their CDs, it just makes me annoyed they're not on there and determined not to give them any money.
Overall, despite the missing music and artists, I wouldn't be without it. Much preferable to buying CDs, and much more convenient than pirating. Yes, I am a reformed freetard, which will no doubt earn me the ire of some of the more rabid commenters on here, but this is exactly what I was waiting for.
Now all I need is for Netflix or LoveFilm to actually have a decent selection of stuff on their streaming service and I'll subscribe to that to!
I've got a load of albums/tracks that I downloaded with my Premium Spotify membersip which over time have disappeared .... sometimes whole albums, sometime one or two tracks from an album on occasionally find an album with only 1 remaining track.
Any device, anywhere
I hope this move by pure might make Spotify think again about charging a premium for mobile access. The device, the 'where' and the 'how' are irrelevant.
You should definitely demand a refund!
Seriously though, can you give an example of a track that's gone? I'm curious to see if I can still get it on the premium service.
Re: SADFACE
Couldn't agree more. I used to be a Spotify Premium user, but thought 'why not spend that money on actually buying CDs?'. It's better for me, and it is certainly better for the artists - and I don't have to worry about whether I can get an adequate signal when on the move - the usual answer outside London being 'no'.