Philips intros dual-view telly tech
Seeing double
Philips went tellytastic today and revealed a vast range of TV sets, several of which include the dual-view display mode that essentially makes splitscreen gaming redundant.
The Philips 6000 and 7000 series are double sided Ambilight LED-lit tellies with Smart TV, built-in Wi-Fi and dual screen capabilities. Similar to the PlayStation TV, the passive Easy 3D system enables gamers to see each of their respective viewpoints, fullscreen, on the same display.
It's a polarisation trick requiring two distinct sets of specs that telly manufacturers have been exploring heavily, with LG also touting its dual-view tech recently.
These passive polarisation features appear on the refreshed Philips 6000 series, which also converts 2D to 3D and offers full 3D depth adjustment. The Smart TV functions can also now be accessed through Wi-Fi, with the days of mandatory ethernet cables fading fast.
The 6000 series display sizes start at 32in, with 37in, 42in, 47in and 55in models included in the range. Each includes four HDMI ports, three USBs and passive 3D specs.
Moving up a notch comes the Philips 7000 series which features 800MHz Picture Motion Enhancement, as well as Active Shutter 3D tech. The same specifications from the 6000 series are brought across, along with an additional HDMI port. These are available in 40in, 46in and 55in versions.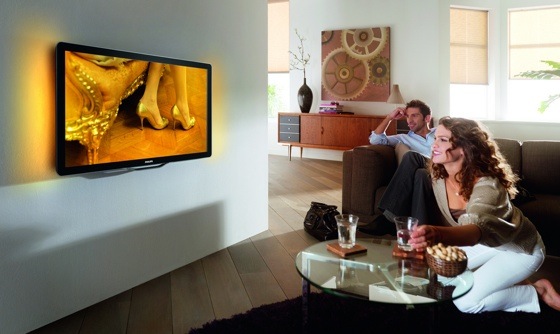 Taking sides is easy
The company has catered for the large portion of those that remain unconvinced by 3D, though, with the Philips 4000, 3500 and 3000 series. The Philips 4000 starts at 32in sizes, with 37in, 42in and 47in also on offer and is kitted out with four HDMI ports, three USB and Wi-Fi capability.
The Philips 3500 meanwhile ranges from 19in to 42in, with support for DLNA and YouTube. Wi-Fi is limited to an optional adapter, though.
Finally - for the ultimate strip down - comes the Philips 3000. These range from 19in to 42in yet lack any 3D or Smart TV functions, limiting users to three HDMI ports and a single USB.
All of the aforementioned models will hit shelves in Q2 2012 although exact prices and availability have not yet been specified. ®
COMMENTS
Sound?
Do the glasses have headphones built in or do you have to hear both programmes at the same time?
I don't
If you have even the remotest of DIY skills there is really no need, nay, no EXCUSE to have any cable visible or lying around. A quick fix is the use of cable trunking, a better idea is to plan the installation. OK; admittedly you have to buy that from a larger provider because the likes of DIY shops only sell split hose crap, but a simple cable trunk performs miracles in cleaning up cable messes without preventing any later alterations. When it comes to routing power and connectivity from a distance, hollow skirting boards are *made* for this.
If you want to see an example of very usable trunking, the RS Components websites has plenty, follow the path "Cables & Wires/Cable Conduit, Trunking & Routing/Cable Trunkings" - I use the 35x35 open finger black ones a lot..
BTW, I always run a cable for ethernet - WiFi is for guests and iThings.
Thank you, and Good Night.
I agree
It always bugs* me that publicity images of electronic kit never show the power leads, let alone the plethora of trailing wires that most of these devices require. (I know, you can bury them in the walls, but I don't fancy remodelling the living room every time I get a new TV.)
Yes, I really must get out more.
Re: I don't
Fair points, but I was thinking more of the TV halfway up the wall with no visible means of support. I know this is technically possible, but I prefer to think of my telly as something I put in my house, rather than something I build my house around. YMMV
Re: Re: Re: Sound?
"Nice romantic evening in"
So your idea of a romantic evening in is either playing video games or watching something totally different to what the other person is watching? I can see the appeal of not having to watch that trite and clichéd rom-com for the nth time, while you watch Top Gear, but thats not going to go down to well with the other half... especially when all she wants to do is "cuddle" and you're waffling on about the Top Gear trios latest shenanigans!
"have to sit at opposite ends of the sofa"
Why? The polarised glasses negate the need for physical separation between the viewers, unlike the systems in Range Rovers and Jaguars mentioned above.