Freecom Mobile Drive Sq 500GB external HDD
Designer drive
Accessory of the Week This stylish mobile hard drive from Freecom is described by its manufacturer as "almost square", which is another way of saying it's rectangular.
Regardless, the rounded corners, "almost square" form-factor and sandblasted stainless steel finish give an aesthetic attractiveness that's lacking in many an external hard drive.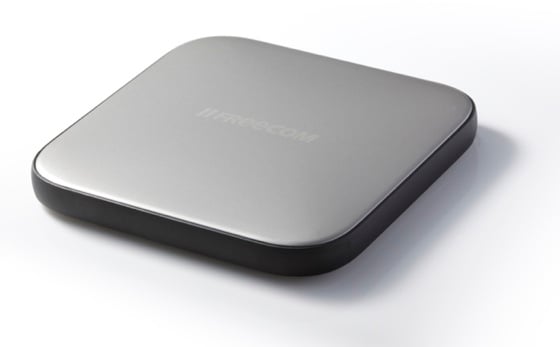 It's also flat - or rather, 'almost flat' - standing only 10mm high on its rubber feet.
Whether that sort of aesthetic appeal is important to you may depend on how you use the drive. If it spends most of its time in a laptop bag, its looks are irrelevant.
But if you plan to hook it up to smart TV, for example, and use it as a digital video recorder, it'll fit right in.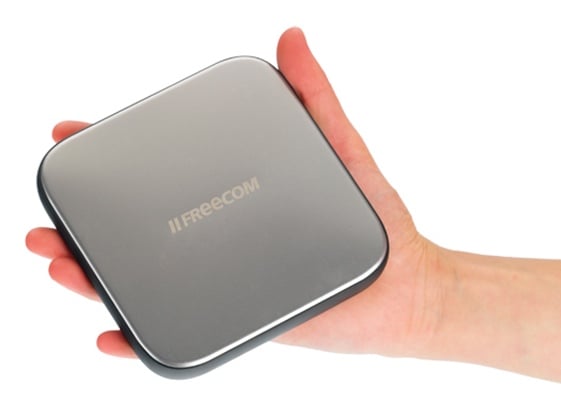 There's one connector on the back: a micro USB 3.0 port. If you're a Mac user, that's USB 2.0 to you. There's a micro-USB-to-USB cable in the box, but no case.
Inside the silver "almost square" chassis is a 2.5in hard drive which, in my case, weighed in at 500GB, though there's also a 1TB model available. The drive comes with software for Mac and PC, fronted by a nifty little interface which allows you to access the PDF manuals and install the applications.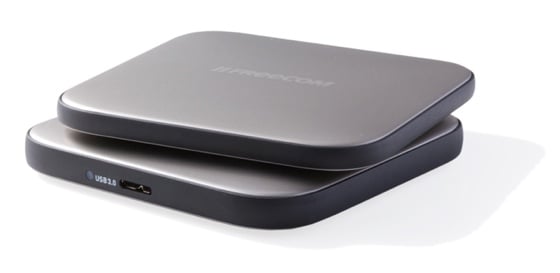 Windows users get Nero's Back It Up and Burn, but Mac users have to make to with tools for putting the drive to sleep when it's not in use and also to format it. Both of those, of course, can be done in the OS.
At £85, the Mobile Drive Sq is a decent buy, but only if good looks are important. ®
Reg Hardware chooses its Accessory of the Week every Friday. Got one in mind you want us to consider? Please let us know
More Accessory of the Week Winners

Marmitek
Gigaview
Griffin
iTrip
Dual Connect
WD My Passport
Studio 1TB
Thumbs Up
Desktop
Phone
Henge
Docking
Station
COMMENTS
Huh?
Maybe I'm missing something here, but its USP seems to be that it's wider (and hence bigger) than it needs to be in order to achieve some strange goal of "squareness", which it admits it failed to achieve because of the word 'almost'
Forgot to mention...
...that the Mobile Drive XXS is also Reg Hardware Recommended.
And no, I'm not a Freecom rep (I'd be a pretty stupid Freecom rep, pitching a cheaper Freecom drive over a more expensive Freecom drive!), I just think they're seriously worth a look to anybody in the market for a very slim and light external HDD.
Why the hell...
...would you buy one of these when a 500Gb Freecom Mobile Drive XXS, with a "skin-tight" rubber sheath little bigger than the drive itself and in a colour that goes with everything (black), can be had for less?
I've got an old 250Gb version and I'd recommend them to anyone, even if only due to the fact that the rubber sheath acts like one giant foot and makes it damned hard to be pushed about, knocked off or even tipped off of almost any surface without actually having to put in the extra effort to purposefully do so.
Not hip to be a square
I agree. Seems like an example of form over function to me. That's going to take up more room in your bag and also looks much easier to drop. The hand model's fingers are at full stretch.
Those marketing people at work again.
Marketeer: "Hey, we need to make our drive stand out from the crowd. Let's make it nearly square"
Engineer: "But that will make it bigger surely?"
Marketeer:"Yeah, but don't worry it will look cool and we'll get a model with big hands"
Two months later:
Marketeer: "I said get a model with hands like a goalkeeper you idiot!
I'm sure you can get a 500GB external hard drive for much less money with a smaller physical footprint. It looks huge by today's standards, If you're buying hard drives based on their aesthetics I think you've lost your way a bit...