The Darkness II
Shadow people
Review On paper, there's very little to like about The Darkness II. Take your character Jackie Estacado, for starters. Even before taking into account the unspeakable evil to which he is host, few gaming protagonists are as monstrously unsympathetic as the contract killer turned mob boss.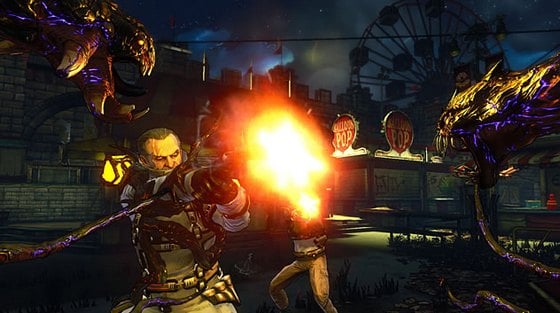 Hit the fairground
Then consider the game's central conceit, 'quad-wielding', which augments regular gunplay with the manifestation of The Darkness: two hideous, serpent-like appendages that burst from Jackie's shoulders with an insatiable bloodlust.
And how about the clichés? The supporting cast of pasta-eating Goombahs called Vinnie or Jimmy or Chief. Or the spectre of his brutally murdered girlfriend Jenny, the "only good thing in his life", fuelling Jackie's inexorable descent into hell?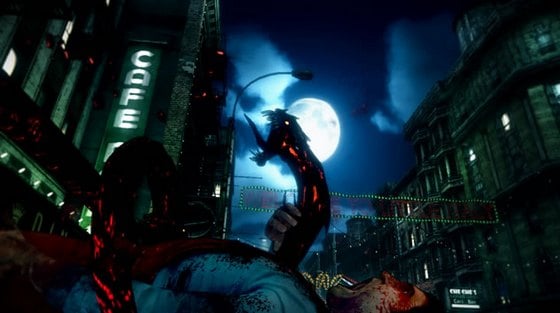 Knocking one out got a bit messy
So is there anything to prevent The Darkness II's own descent towards the hell of the pre-owned shelf? Well, surprisingly, plenty. Its mechanics might feel contrived to punch a niche into a saturated market and its narrative employ some tired conventions, but within the confines of an interactive B-movie, The Darkness II is a thrilling barnstormer of a shooter.
In remaining true to its source, it's also a game of intelligent contrast. Ripping out an enemy's spinal cord through his sphincter or eating his still-beating heart to regain health are obvious grotesqueries, even when tempered graphically by stylised cel-shading and cross-hatching. But the supernatural comic book horrors prove less shocking, splattered across the backdrop of a brutal criminal underworld.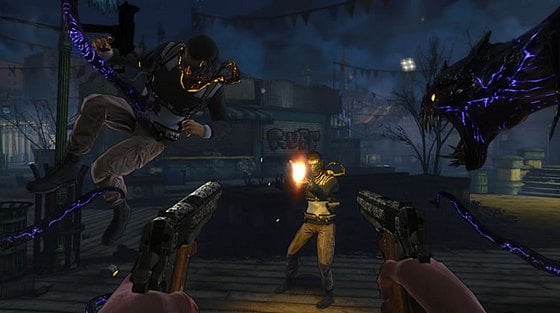 Day of the tentacle
For all its Mafia clichés and ribald humour, it's a disturbingly mature depiction of violence and vice. Here, vendettas are repaid by butchering innocent family members in front of your eyes and clients pay to beat-up prostitutes in squalid, factory-sized whorehouses.
COMMENTS
I read the title and thought this was about the reunion of Justin Hawkins so-called Glam Rock band.
I was mistaken.
Yes it's horrible...
The plain truth is that as horrible as it is if it's like the first one I'll end up really happy when I get to rip out and devour the still beating heart of some scumbag. The first game was massively flawed and too short but FUN!
Those of us grown up enough to have jobs, families and an outlook on life that doesn't involve hiding from bogey men do enjoy an occaisional bout of controlled terror, even if we're dishing it out :-)
So slap a tracking device on me so you'll know when I'm on my way round to yours to eat your heart and rip your spine out yer bum!
Re: Horrible horrible game
Thanks, you just did a nice job of making me go out and get the game. Oh how I long for violence that makes me puke at my TV.
Re: Horrible horrible game
lol, IIRC in Indiana Jones and the Temple of Doom, sacrifices are dropped into lava pits and their hearts are ripped out to the calls of Kali Maa!
So no, it's doesn't sound particularly gruesome or horrible.
Now Manhunt on the PS2... that was disturbing.
Whilst an involuntary participant in a "Snuff Movie" (having been secretly rescued from a death row execution), you get the director (excellently played by Brian Cox) whispering in your ear (if you had the PS2 headset mic) about what excellent material you were providing him with in your quest to escape. Utilising things like plastic bags, crowbars, baseball bats etc it was quite a cinematic experience.
All 18 rated of course!
Horrible horrible game
Downloaded the demo thinking it will be some silly zombie game. But turned to be quite a shock. This is a first person torture fest. Your character get realistically tortured and maimed then you have the opportunity to maim and torture others. After killing your victim, you rip open their chest to eat their hearts. Very charming.
Then you have incessant f bombs in the game. Every minute someone f's you up. Didn't know people even make psychotic games like this. This is the most violent game I have played.
BTW the graphics are really lame, maybe making it anywhere close to the current best will make people puke at their TV. A game for wannabe psychopaths. A tracking device should be implanted on anyone buying games like this.