Apple files patent for simplified iPhone media sharing
Send stuff while you're on a call, and get Google's goat
Apple has filed a patent application for a system that would use a binding protocol to make it easier to transfer media simultanously with a phone call.
The filing, published on Thursday and entitled "Media/Voice Binding and Related User Interfaces", describes a method for relating a media item to a recipient's contact information, either before or during a call, then sending that item while the call is in progress over a "user-selected communication modality over an independent data communication channel", with multimedia messaging (MMS) and email provided as examples.
Two types of binding are described: "lazy" and "active". The lazy-binding scenario involves selecting one or more media items and associating them with someone in the device's contact list. When the call is made, the recipient is then offered the choice of accepting the media items.
In active binding, the sender is already on a call, and pauses it to select media items that are then bound to the call and offered to the recipient, to be sent either by MMS, email, or some other "user-selected communication modality". If desired, a keyboard could pop up allowing the sender to include a text message in, for example, MMS or email mode.
During a call, the active-binding capability could work in both directions – and, for that matter, media could be shared among multiple parties during a conference call using either lazy or active binding, or sent to a communications-equipped network storage device.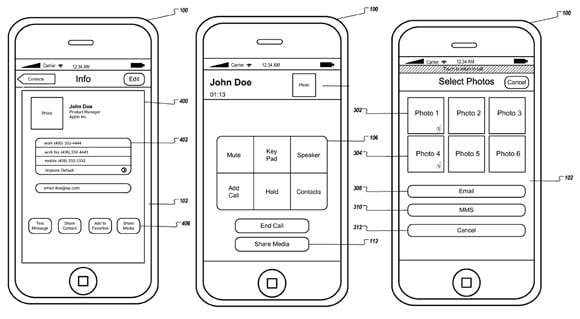 John Doe can bind media to a contact before a call (left), share it during a call (center), and choose how to send it (click to enlarge)
The ability to bind and send wouldn't be limited to smartphones. Although the filing uses an iPhone in its illustrations, it notes that the claims of the application also apply to an "e-mail device, game console, television screen, personal computer, electronic tablet, media player or any other device with communication capability,"
The range of media items that could be bound to the call is equally comprehensive:
Media can include any information or content in any known digital format, including but not limited to: photos, videos, audio files, documents, contacts, calendars, emails, video voicemail, web pages, ringtones, links, multimedia messages or presentations, call logs or records, forms or any other information or content that can be transmitted between two or more devices.
In addition, the filing describes the ability to bind and send HTML, XML, or "any other code" – with JavaScript given as an example – that could create a user interface on the recipient's phone. The filing describes as one example of this capability a bank sending a UI over a secure channel into which the recipient would enter their PIN number before proceeding.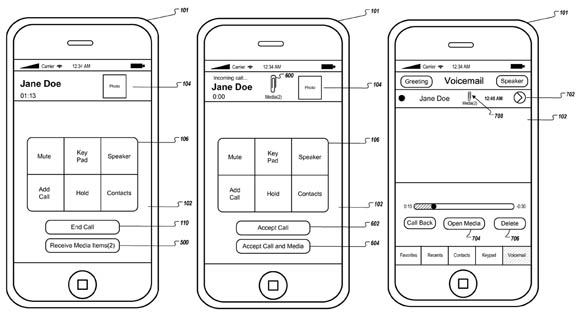 Wife Jane can accept media during a call (left), accept it or not when a call arrives (center), or get it over voicemail (click to enlarge)
Each instance of media binding would be given a unique identifier code that could allow the creation of a history log, and which could include any or all aspects of the recipient's contact information and display it in the history item along with the date and time of the transfer, as well as connecting the history of media sent along with the media itself, stored on the device.
Other refinements include the ability to create media items during a call – think photos and videos – and send them along, and the ability to bind media to voicemail messages, which the reciptient can choose to accept or not. Also, as you might have expected, when a media item is received, a tap on its icon – in the examples, a paper clip – would open it in the appropriate app.
While the ease of binding media items to phone calls might be welcome, The Reg see a couple of other implications should this system ever be implemented. For one, it would clearly increase the amount of data traffic wafting over the wireless airwaves, already a rather congested bit of airspace.
More interesting, though, is the fact that communications such as that described in the banking example bypass the internet, and thus do an end-run around advertising-supported services such as, well, Google.
And speaking of ads, although there's no mention of advertising in the filing itself, there's also no technical reason that we can see why an intermediary service – Apple's struggling iAd Network, for example – might not insert ads into the media-carrying data stream.
We're not saying that Apple has any such plans, but we could envision, say, carrier-resident image-recognition software noticing that you're sending an image of the Vatican to a friend, and including along with it an offer for a coupon that'll get your buddy a great deal on a Rome hotel. ®
Sponsored: Minds Mastering Machines - Call for papers now open