Atom split
In use the Pavilion dm1 feels so much faster than any Atom machine that comparison is futile. Of course, it's no Intel Core i3 laptop and you wouldn't want to do any serious HD gaming or graphics work on it but at most tasks it's only a little slower than my trusty old 2.1GHz Centrino-powered Dell Inspiron 1525.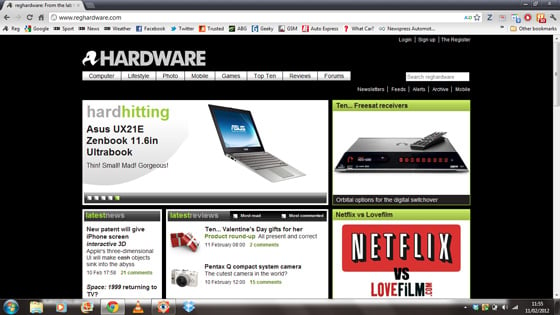 Viewing real estate on the 11.6in 1366 x 768 screen
As a media player the new Pavilion dm1 is a great performer. Not only do videos look good on the glossy panel but thanks to some Altec speakers – and the Beats Audio system that is now cropping up in all HP laptops – it sounds pretty good too. For such a small machine there is plenty of volume on tap and the bass is impressively deep and solid.
Another important upgrade over the old dm1 is the new trackpad and click-bar arrangement, which now has a conventional two-piece articulated bar, rather than a solid, touch sensitive - and annoyingly lifeless - all-in-one unit featured previously.
Battery life doesn't let the side down either. Looping PCMark05 I got 2 hours 50 from a full charge. Looping a 720p MP4 video using VLC I got to the five hour mark. Without playing videos and in more balanced day-to-day use you will see 8 hours easily even with the screen brightness at 75 per cent.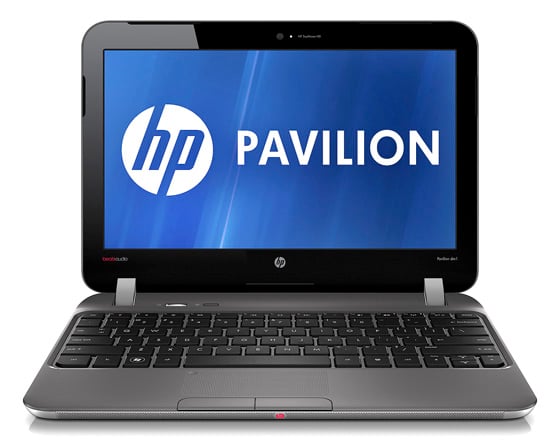 Nifty and affordable
Screen brightness is in fact the only fly in the Pavilion dm1's ointment – it just isn't that bright, especially when compared to the Samsung NS310 I looked at last summer, which pumped out nearly enough luminescence to melt tarmac. I certainly wouldn't want to use the DM1 in strong sunlight on a regular basis but I live in Manchester so that is never going to be a problem.
Verdict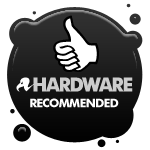 By avoiding Intel's puny Atom CPUs and wretched built-in graphics and a nasty little 1024 x 600 10.1in screen, the HP Pavilion dm1 offers a useful alternative to a chic but limited tablet or a farcically expensive Ultrabook. For £350 you get cracking little laptop with an 11.6in display that enables you to do what most of us use a computer for, at a price most of us can afford and with a battery that lasts long enough to do it. ®
More Notebook Reviews

HP
Pavilion
dv6
Samsung
Series 7
Chronos 700Z5A
Asus
Zenbook
UX31E
Dell
XPS
14z
Acer
Aspire S3
Ultrabook

HP Pavilion dm1-4125ea 11.6in netbook
Affordable and very capable AMD-powered netbook.
COMMENTS
This is what Ultrabooks are competing against
When pretty much every Ultrabook that I have seen has a 1366 x 768 screen, it reduces them to the same pigeon-hole as this laptop. Sure, the screens are physically a little larger, and you get a more powerful CPU, but I doubt that there is much that you would actually do on an Ultrabook that this can not do fine for a third of the price.
Glad you finally
...reviewed a decent netbook.
All the ones I've read previous complained about the lack of innovation in this field whilst completely ignoring anything that didn't have an Atom chip.
Like the poster above pointed out: this is the real competition for Ultrabooks - these things are capable of HD video, decent screen resolution, virtualisation, gaming (well, ok maybe not amazing gaming) and have a decent battery life to boot - and all at half the price of what the top end ultrabooks are going for.
Also...
It's not a true netbook.
My old Acer Aspire One was a proper netbook. 200 quid, Linpus Linux. Once I replaced that with Peppermint OS/Ice Linux it was the most convenient machine for plain old web-browsing I ever owned. Chromium was very fast on it. It booted and unslept far faster than any Windows machine. And I didn't worry too much about damaging it as it was so cheap in the first place.
Being Acer though it took care of dying all by itself after a couple of years and is now a paperweight.
Glossy screen BAD!
It is a good machine. It would be a much better machine if it had a non-reflective screen.
Re: I have a similar...
I'm guessing like me the reviewer prefers a cheap slow 320GB drive to a fast expensive 128GB drive. The extra 30 seconds to boot I can live with, the size and cost of an HDD I can't