HP Pavilion dm1-4125ea 11.6in netbook
AMD's Atom smasher
Review Now that everyone and their dog has or wants a smartphone or tablet, the recent drop in netbook sales can hardly be a surprise. Yet does this mean there is no space for a small, cheap laptop? Of course not and HP's recently refreshed Pavilion dm1 is a fine example of why I hope the breed never dies.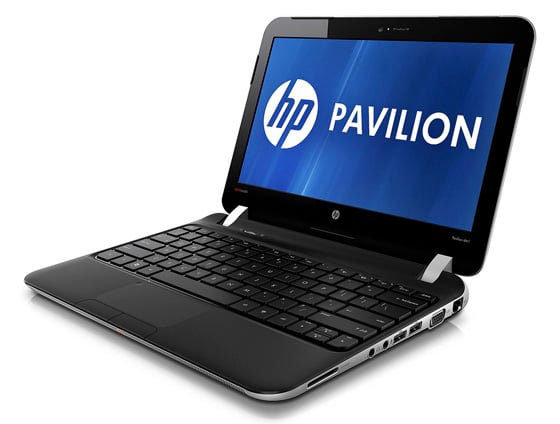 HP's Pavilion dm1-4125EA: the death of the netbook has been greatly exaggerated
Down from a RRP of £549, HP's on-line store asks for a perfectly reasonably £350 and in return you get a smart little machine with an 11.6in 1366 x 768 screen. It features proper graphics card that can easily handle 1080p video, a spacious and solid if unlit chiclet keyboard, Gigabit Ethernet and an full-sized HDMI port.
Eschewing the wholly plastic construction of many netbooks, HP has gone for a metal banding around the Pavilion dm1 which helps make the body and everything else – the lid, the keyboard, the nicely responsive trackpad – feel reassuringly solid.
At 1.5Kg and 292mm x 215mm, the Pavilion dm1 is petite enough to go into even the smallest rucksack without a problem. Admittedly, 32mm is twice the thickness of some Ultrabooks, but I'll happily forgo the difference in order to get a decent selection of ports and a profile I can hold onto with a human hand.
Driving everything is the latest version of AMD's E-series Fusion APU which pairs the E450 1.65GHz dual-core chip with an AMD Radeon HD6320M graphics card. This combo supports 1333MHz rather than just 1066MHz DDR3 memory on the slower and older E350 chip.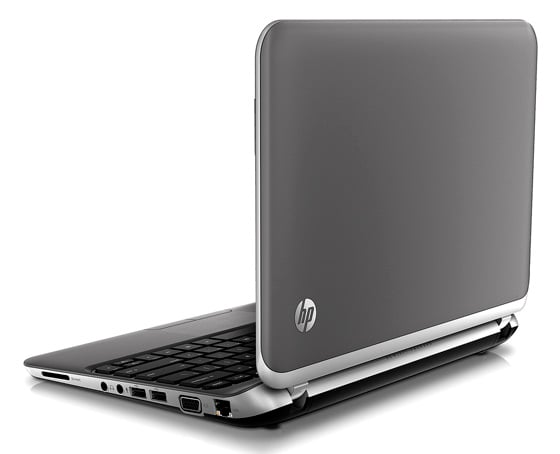 Looks good and puts in a decent performance too
It's a marriage that delivers the sort of performance Intel Atom netbooks can only dream about. For the sake of comparison with Windows Starter-running netbooks, I ran the PCMark05 benchmark test and got a score of 3,320 which is nearly double the best score I have ever seen from an Atom netbook.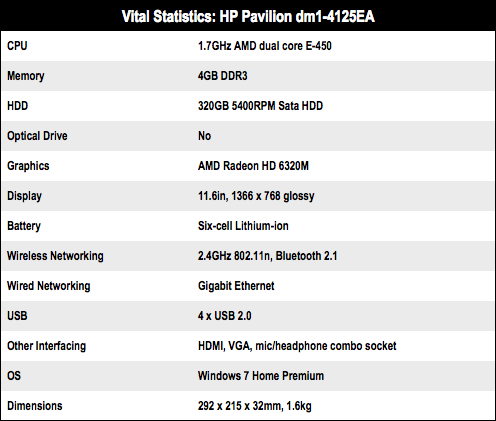 COMMENTS
This is what Ultrabooks are competing against
When pretty much every Ultrabook that I have seen has a 1366 x 768 screen, it reduces them to the same pigeon-hole as this laptop. Sure, the screens are physically a little larger, and you get a more powerful CPU, but I doubt that there is much that you would actually do on an Ultrabook that this can not do fine for a third of the price.
Glad you finally
...reviewed a decent netbook.
All the ones I've read previous complained about the lack of innovation in this field whilst completely ignoring anything that didn't have an Atom chip.
Like the poster above pointed out: this is the real competition for Ultrabooks - these things are capable of HD video, decent screen resolution, virtualisation, gaming (well, ok maybe not amazing gaming) and have a decent battery life to boot - and all at half the price of what the top end ultrabooks are going for.
Also...
It's not a true netbook.
My old Acer Aspire One was a proper netbook. 200 quid, Linpus Linux. Once I replaced that with Peppermint OS/Ice Linux it was the most convenient machine for plain old web-browsing I ever owned. Chromium was very fast on it. It booted and unslept far faster than any Windows machine. And I didn't worry too much about damaging it as it was so cheap in the first place.
Being Acer though it took care of dying all by itself after a couple of years and is now a paperweight.
Glossy screen BAD!
It is a good machine. It would be a much better machine if it had a non-reflective screen.
Re: I have a similar...
I'm guessing like me the reviewer prefers a cheap slow 320GB drive to a fast expensive 128GB drive. The extra 30 seconds to boot I can live with, the size and cost of an HDD I can't