HP iSCSI slogger usurped by younger flashy model
6.4TB P4900 for just $199k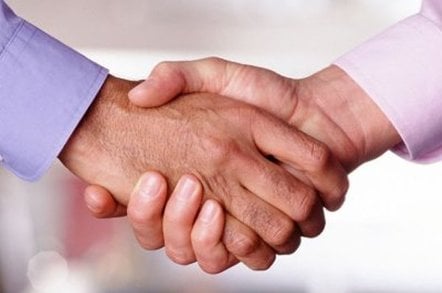 HP has announced an all-flash version of its LeftHand Networks P4000 iSCSI storage array, the P4900
Flash P4000s are supported already in the form of P4000 Virtual Storage Appliances (VSA) which uses DAS on linked servers and turns it into an iSCSI-accessed storage area network (SAN). If the DAS is flash then the VSA is flash-based too.
There is a two-node P4900 bundle with 6.4TB of flash built with 16 x 400GB drives, and a single node expansion box with 3.2TB of flash (8 x 400GB drives). Maximum capacity is 102.4TB using 256 large-form factor 400GB SSDs. The P4900 flash is enterprise-grade 2-bit MLC, with a 6Gbit/s SAS interface, and HP extols its long working life. We understand from an HP document that, for each drive, "a workload of 100 per cent 4KB random writes to the device would deliver a maximum lifetime of 4.7 years, total of 4,577 terabytes written".
Each node has dual active-active controllers and quad P410 RAID controllers. The host interfaces are 1 or 10GbitE with 64 ports maximum. Default access is via iSCSI, although CIFS (SMB2.1), NFS, HTTP and FTP support is available with the addition of a P4000 G2 Unified NAS Gateway. This also adds deduplication into the mix.
The P4900 has a SMARTSSD Wear Gauge which monitors the health of the SSDs and displays information about their remaining working life in the P4000 management console, with alerts as particular levels of wear are reached.
The P4900s are scale-out arrays like the other P4000s - up to 32 can be clustered together as additional ones are added - scaling out capacity and performance with a linear IOPS increase, HP claims. The P4900 can be grouped with dissimilar P4000 products, which could be using MDL SAS for capacity, SAS disks for performance, SSDs for higher performance, and VSAs for convenience, into a single environment managed by one console. Data can be moved non-disruptively across these P4000 environments using the Peer Motion technology.
Virtually everything is redundant: hot-swap power supplies, fans, drives, etc. The RAID controllers offer RAID 5, 6 and 10, and there are Network RAID levels per volume of 0, 5, 6, 10, 10+1, and 10+2, with up to four copies of data.
The SAN/iQ software provides thin provisioning, application-integrated snapshots, async and sync replication, and smart clones.
Regarding its use, we understand the best idea would be to use it as a tier under a single P4000 management group. It's not recommend adding it to a disk-based cluster.
All-in-all this is an enterprise-class flash SAN building block with a reasonable near-5-year working life and good data protection and management features, particularly the impending deathometer. It's a timely announcement as competitors including Starboard Storage, the morphed and renamed Reldata, and NexGen Storage, founded by LeftHand veterans, introduce their reinvented hybrid SSD-HDD iSCSI and more arrays.
HP announced the gear to its channel at a global partner conference in Las Vegas on Tuesday. It also announced that all storage sales to new customers would go through the channel. And all sales of P4000, including the P4900, and StoreOnce deduping backup systems will go through the channel as well.
The P4900 was on sale from 13 February. The US list price for a 2-node bundle (P4900 6.4TB SSD Storage System, 16 x 400GB) is $199,000. The single node expansion is $105K. ®
Sponsored: Minds Mastering Machines - Call for papers now open