OCZ out-flashes EMC's Lightning
16TB of caching vMotioning flash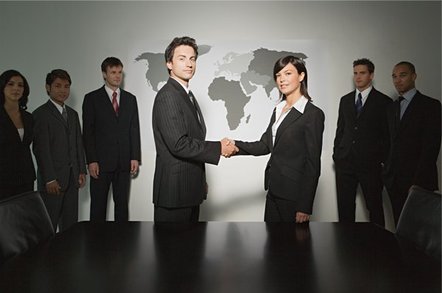 OCZ has announced a 16-terrabyte server flash-card whopper that supports vMotion and – spec-wise – tosses EMC's puny 300GB Lightning card out of the pram.
OCZ's announcement of the Z-Drive R4 CloudServ is anorexic, detail-wise, but here's the little we've gleaned from it and a couple of other outlets:
Capacity ranges from 300GB to a massive 16TB. We assume it's 2-bit MLC NAND; 2X nanometer-class chips from Micron – 25nm maybe, like the existing Z-Drive R4 PCIe flash drives.
One 2-slot, PCIe x8 card with x16 interface connector, according to AnandTech;
1.4 million IOPS and 6.4GB/sec, according to this Google-translated Turkish website, which also provided the picture below;
Up to 16 SandForce SF-2582 or 2481 controllers (sources differ) and OCZ's Virtual Controller Architecture;
SANRAD VXL virtual machine acceleration caching software; and
RAID 0 and TRIM support.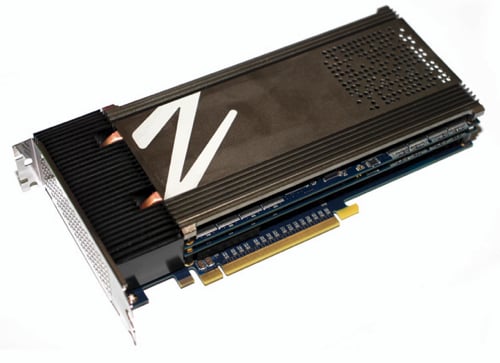 OCZ Z-Drive R4 CloudServ
The VXL software enables the Z-Drive R4 CloudServ to allocate chunks of its capacity to virtual machines (VMs) in the server. OCZ says it "provides a seamless migration from one host to another without the loss of cache data … without loss of performance or interruption of service." In other words it supports vMotion between server hosts, which is one better than EMC's VFCache – if OCZ's claim is literally true.
OCZ says unambiguously that "OCZ's SANRAD VXL software is the only software that allows for this seamless migration without loss of access to the flash cache." OCZ bought SANRAD in January for $15 million.
The target-market goal is apparently to accelerate servers in cloud environments. But that's just marketing – it's basically a virtualized server–accelerating turbocharger.
Fusion-io's ioDrive 2 Octal provides up to 10TB of 2-bit 2Xnm MLC flash with more than 1.3 million IOPS claimed. The OCZ product appears to out-perform that on a raw announcement spec basis. EMC's VFCache isn't even on the same page, spec-wise.
OCZ says its bright and shiny new flashy beast will be available through its channel in the next few weeks. There is no pricing information available, and no endurance nor detailed performance information. It's all a bit of a flash tease for now – but an impressive tease none the less. ®
Sponsored: Minds Mastering Machines - Call for papers now open