Are friends electric?
Today you can buy vibrators that connect to a phone via Bluetooth and can be controlled remotely by text message, or react to the music playing on your iPod.
The thought of attaching electrical devices to yourself may conjure up images of shock therapy, but electro sex is big business for companies like Watford-based E-Stim systems, and in the hands of an expert can produce sensations that really do feel as if someone else is doing things to your body.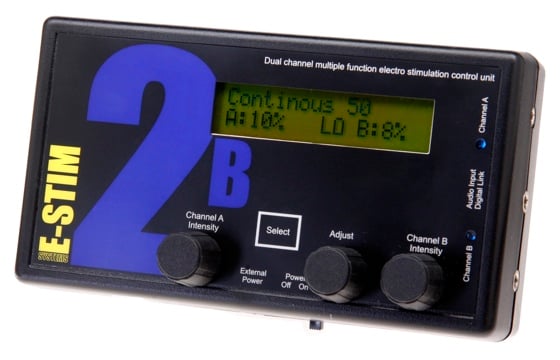 Remote electrical play: E-Stim Systems' Series 2B control unit
This sort of thing isn't just about having fun on your own, though. Gadgets like E-Stim's Series 2B can be connected to a PC, and so controlled remotely. The company's Wayne Allen explained that they've open sourced the serial control protocol, so users can write their own apps.
There's even a forum dedicated to remote control of electro devices, allowing a single "driver" to take charge of several other people in a group session. And by adding everyday technologies like webcams or Skype to the mix, the idea of a sexual experience with a partner who's a long, long way away starts to become more real than science fiction.
The real thing?
But is all this realistic? While you might have a lot of fun with remote controlled vibrators or electro boxes, they don't have much a personal connection. The term often bandied around for remote sex is 'teledildonics', and while it's still some way away from providing a complete body experience, it's closer than you think.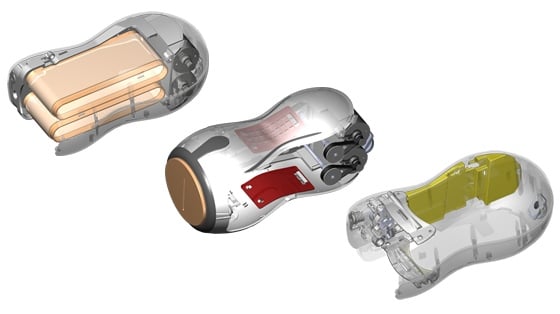 Computer controlled: the PC-connected Real Touch responds with internal motion, temperature and moisture
Remote kissing is an area that's been exercising inventors for some time. The Kissenger essentially transmits the pressure of your lips to a receiving device, and is just the latest attempt to let you lock lips remotely.
Moving south, the Mojowijo is available in both his and hers options. The 'his' is a robotic looking handle, while the 'hers' is a more conventional vibrator. Both devices attach to Nintendo's Wii remotes, and use the motion of one to control vibrations in the other, either locally or across the internet. And no, you don't have to buy a Wii to use it.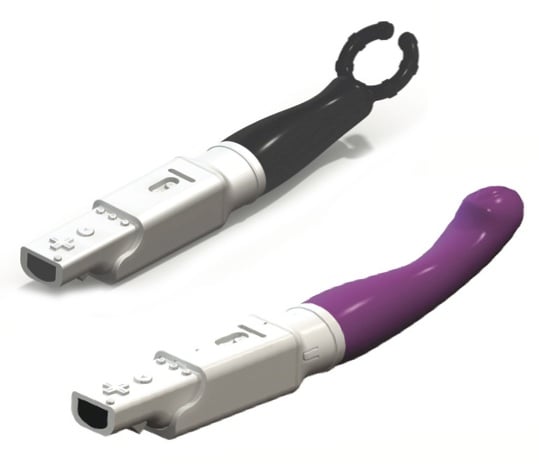 Wii play: Mojowijo remote stimulation toys for him and her
Similarly, the slightly terrifying looking Real Touch is, essentially, an electric version of the Fleshlight, complete with heaters, motors and lube dispensers that can be synchronised to videos on the company's website. Real Touch also made some headlines recently for suggesting that they provide a thousand "dildos for military wives", which would relay sensations to the counterpart parts of servicemen in Afghanistan.
Quite what the top brass would think of bandwidth being used for such purposes is anyone's guess - just remember to check your ping time before you start.
COMMENTS
OK, I'll be first:
..So, which security company will be doing the penetration testing?
Reverting to Form
That is an interesting article and raises a lot of nice points :)
For me, I see the technology as a massively positive influence in all things sexual. Without going into too much detail; without it I would not be the confident, happy and successful person I am today. Finding that I was not alone in the kind of things I like really brought me out of my shell.
What I see more and more really is humans reverting to form. You say that it takes a long time for society to adapt to change and you are right. The thing is, the very prudish society of recent times was actually very short lived. Look at how people acted in pre-Christian times - much more liberated.
Humans, both male and female are very sexual creatures and always have been. Combine that with our amazing ability for abstract thought and it's no wonder we have the wide and wonderful variety of sexual desires that we do.
The Internet and technology in general is helping people to embrace their desires again and opening up whole new possibilities and after we've been repressed for so long, it's wonderful. And the best part is, no matter how much "they" try to stop it happening, it's going on anyway - it might not happen in our lifetime but future generations should be MUCH more liberated, happy and accepting of others than ours. And Good on them :)
Ambisextrous
There was a man from Racine
Who invented a fucking machine
Concave or convex
It could take either sex
And play with itself in between.
@ Graham Marsden
I had a brief discussion about this with my professional issues tutor at university during my computer science degree. You are right, an image is deemed to be child-porn, even if no children were involved in the making of said images, if the subject is somehow judged to be child porn. I also believe that photographs of naked children are now classed as child porn, even if they are not pornographic - so my mum had better burn all those naked photos of me as a child before the feds get her. Oh, and didn't someone in America recently get done for possession of child pornography because a doctor looked at some images on his computer and decided that the girl looked under age. The model even stood as a witness at his trial with proof she was over 18, but they did him anyway - madness! Meanwhile the real nasty people are still harming real children.
Wow...
things have really moved on since the 5.25" floppy.