ScaleMP chases SGI customers with migration deal
vSMP 4.0 versus NUMAlink 5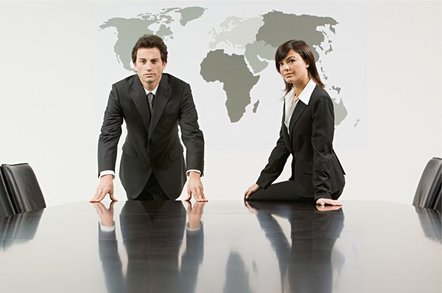 The financial news out of Silicon Graphics last week - the company's profits falling even as revenues expand, and the contemplation of a reorganization in unprofitable European operations while looking for a new CEO – apparently has some customers looking for alternative shared-memory systems.
Shai Fultheim, founder and CEO at ScaleMP, the maker of a funky server hypervisor that converts clusters of servers into shared-memory Linux systems, says that since SGI's numbers came out last week it has been approached by 40 SGI shops, asking ScaleMP about its Versatile SMP (vSMP) Foundation product and how it might be used to run their shared-memory workloads.
"We have never had so many leads come in during a one-week time, besides at the SuperComputing conference," Fultheim tells El Reg.
Like SGI, ScaleMP mostly sells its products to traditional supercomputing customers, but both have ventured out into wider installed bases: SGI to large Windows Server and SQL Server installations, and ScaleMP into high-speed messaging and virtual server clouds.
In reaction to all of the calls it is getting, ScaleMP today launched an SGI migration offering that greases the skids a little by reducing the cost of getting a vSMP shared memory cluster up and running. To participate in the deal, you have to be a current SGI customer using one of its Altix or UV shared memory systems.
Fultheim says that SGI includes free installation with its UV machines, so now ScaleMP is offering the same thing. And because the vSMP hypervisor and its use of standard Ethernet or InfiniBand networking as the backbone of the shared memory system is quite a bit different from the NUMAlink 4 and 5 interconnects used to glue together multiple Itanium-based Altix blade servers or Xeon E7-based UV blades into a box with a shared memory space, ScaleMP has to throw in some training for free, too, as part of the deal.
That gets the base x86 server iron up and running vSMP, but then you have to deal with porting applications and tuning them, so ScaleMP is throwing in consulting services for application migration.
Add these three up and you have something that is worth about $40,000 on a typical 64-socket vSMP system based on Opteron servers from HP, Dell, or IBM. That typical hardware setup, including InfiniBand switches, server nodes, and a reasonable amount of memory and disk, will cost between $320,000 and $350,000, says Fultheim, with about $120,000 coming from vSMP licensing, support, and services.
SGI customers like to buy support contracts over five-year terms, apparently, so ScaleMP is going to match that term and do so at a further discount, offering five years of support for $120,000, the cost of four years of support for the typical 16-node cluster. (Support is an additional cost that is set at 25 per cent of the vSMP license price per year.) So there's another $30,000 in savings.
Add it all up: the typical vSMP system usually costs $475,000 over five years, and the SGI migration deal shaves off 14.7 per cent of the price.
vSMP 4.0 launched back in November, and it supports the current "Interlagos" Opteron 6200 processors from AMD as well as the impending "Sandy Bridge-EP" Xeon E5 processors from Intel; the shared memory hypervisor will work on earlier generations of x86 processors, of course.
With vSMP Foundation 4.0, the vSMP hypervisor can link together as many as 128 physical server nodes and address up to 64TB of main memory across those nodes. With the 16-core Opteron 6200s used in four-socket servers, that brings 8,192 cores to bear on a single memory space, while with the current 10-core Xeon E7 processors used on eight-socket servers, that gives you 10,240 cores across a single memory space.
Your workloads have to run Linux and they have to be amenable to the shared memory implementation that ScaleMP has put together. If you have Windows apps, vSMP is not an option for you – at least not yet. ®
Sponsored: Minds Mastering Machines - Call for papers now open