Shark versus shark in Barrier Reef DEATH MATCH
Down the hatch…
Researchers have known for ages that some shark species prey on other sharks if they get the chance, but now, researchers have caught happy snaps of the killer snack.
The pics, taken by researchers from the ARC Research Centre of Excellence for Coral Reef Studies, show a "carpet shark" taking in a solid meal of brown-banded bamboo shark.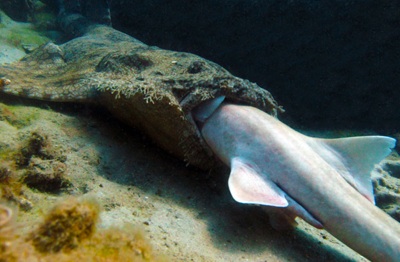 Dislocating jaws are handy sometimes. Image: Daniela Ceccarelli
The carpet shark, or wobbegong, Eucrossorhinus dasypogon, relies on camouflage as its feeding tactic (which incidentally makes it the source of 13 percent of shark bites on humans, usually not fatal, when people step on one). Its dislocating jaw allows it to open its mouth wide enough to ambush and consume the bamboo shark.
According to the researchers who caught the gruesome pics, the bamboo shark was around a meter long, and the wobbegong around 1.25 meters.
"During the 30-min observation period," the researchers write, "neither shark moved … we assume that it would have taken at least several more hours for the wobbegong to completely consume the bamboo shark."
The observation of the shark-eat-shark behavior was made during a field trip in August 2011, and has been accepted for publication in the journal Coral Reefs. ®
Sponsored: Minds Mastering Machines - Call for papers now open