Roku rocks media streamers into UK
BBC iPlayer on board
Roku has released its compact media streaming set-top boxes in the UK. With it comes BBC iPlayer support.
The Roku LT and Roku 2 XS players - priced at £50 and £100, respectively - also come with Netflix support and all the usual free picture and video content sites, from Flikr to YouTube.
Both boxes can connect across a 2.4GHz 802.11n network, but the XS has Ethernet support too. It also drives the TV its connected to at 1080p - the LT is limited to 720p.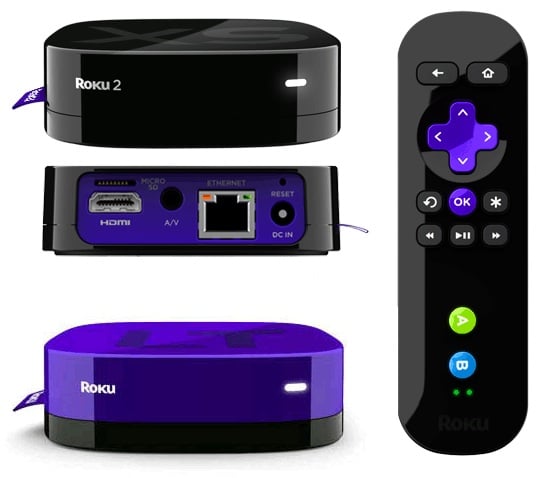 Roku 2 XS (top) and Roku LT (bottom)
The XS has a motion-control capable remote that can be used with some games; the box comes with Angry Birds preloaded.
Roku said the LT will debut here soon, but the XS is available now through Amazon. ®
COMMENTS
As far as I can see this supports no local streaming at all? If that's the case it's massively overpriced for what it is surely?
Having your pi and eating it
Sure the Raspberry Pi could do what the Roku does, and probably more too. But this is a complete package, everything included, plug and play, firmware preinstalled and configured, power supply, case (like it or loathe it) plus a remote. It likely even comes with a user manual and warranty.
In short it's the difference between a commercial media player and tinkerer's delight. Each has their own place; horses for courses.
One advantage for the Roku is all the connectors are at the back unlike the Pi which will likely be a rats nest of wiring you might not like sitting under your TV. And how much would a Pi and the rest cost to turn it into an ersatz Roku? More importantly, the Roku is 'here and now' while the man in the street has no idea when they will be able to get their hands on a Pi given slipping delivery dates and unknown production batch sizes.
Ugly but cheap
I would be quite interested in this if it supports streaming from SMB shares. The specs don't advertise this though, does anyone know if Roku support it?
Down with the kids
Marketing man - "No, it's funky"