Red Hat fires Gluster thruster from Amazon's cluster
Storage done virtually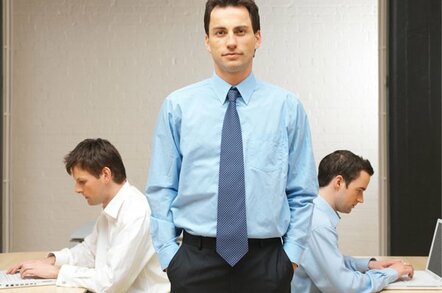 Red Hat is providing a Virtual Storage Appliance using Amazon cloud storage and claiming enterprise, scale-out NAS capability.
The Red Hat VSA is built on Red Hat's acquired Gluster technology dealing with a clustered filesystem, and is based on back-end Amazon Web Services (AWS). It is POSIX-compliant and, Red Hat claims, this means no re-coding of apps is needed to give the apps access to data in this cloud. Red Hat says unambiguously it is "the leading enterprise-ready scale-out NAS offering for the public cloud available on the market today."
Businesses can have applications access a pool of virtualised storage based on aggregated Amazon Elastic Block Storage and Elastic Compute Cloud instances. For data protection the product features synchronous replication, replicating data within a single or multiple datacentres and Amazon availability zones within a region. Asynchronous geo-replication is also available to replicate across all AWS regions.
RH VSA can be deployed in minutes and users can use its storage "as a large pool or resource and replicate to and from the cloud to meet [their] growing storage needs and to handle overflow situations".
Ranga Rangachari, who wears the storage general manager hat at Red Hat, said: "By using the appliance within the AWS environment, users are now able to scale linearly for performance and capacity, connect multiple AWS instances to a single shared storage pool, and also experience the benefits of an AWS deployment. In the near future, we expect the appliance to also support additional cloud providers and extend its benefits to their deployments."
Who will be the lucky cloud storage boys? Joyent and Nirvanix possibly. ®
Sponsored: Minds Mastering Machines - Call for papers now open