IT crowd sorts out the Mars Science Lab
Boffins manage to fix spacecraft's computer problems
US space boffins have managed to sort out the computer problems on the Mars Science Laboratory, currently tootling through space with the spanking-new rover Curiosity on its way to the Red Planet.
The MSL's celestial navigation system was has been out of action since 29 November last year, three days after its launch, because of a computer reset. When the craft turned on its star-scanning software, it somehow knocked the system offline, but fall-back systems were able to keep the MSL on track so far.
NASA said a "previously unknown design idiosyncrasy" in the memory banks of the MSL's computer process caused the glitch in the system.
"In rare sets of circumstances unique to how this mission uses the processor, cache access errors could occur, resulting in instructions not being executed properly," the agency said in a canned statement.
To fix the problem, the boffins whizzed up a software update that changed how the registers in the memory management of the chip were configured.
"Good detective work on understanding why the reset occurred has yielded a way to prevent it from occurring again," said deputy project manager Richard Cook. "The successful resolution of this problem was the outcome of productive teamwork by engineers at the computer manufacturer and Jet Propulsion Laboratory."
The spacecraft is back to using its star tracker and celestial navigation system this week, to pinpoint the designated zone to land and send the nuclear-powered robot laser truck, or rover, Curiosity on its way.
Meanwhile, up at the Red Planet, the Mars Reconnaissance Orbiter has spotted (see below) the landing platform that the old rover Spirit first rolled off in 2004.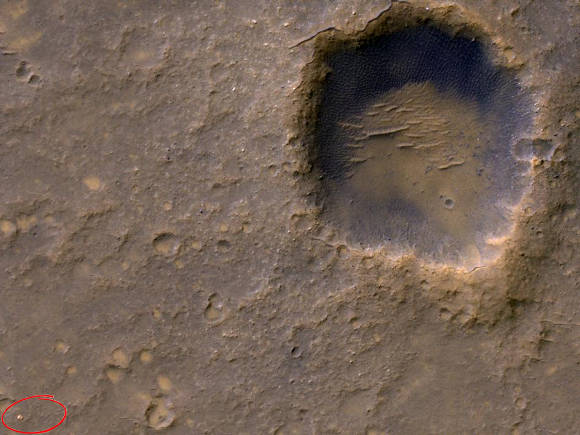 Spirit's landing platform has been spotted - bottom left hand side of the pic, circled in red. (click to enlarge)
The High Resolution Imaging Science Experiment (HiRISE) camera on the orbiter snapped the shot in January, the first colour image that has featured a bit of NASA tech. It has also spied out the Phoenix lander which set down near the red planet's north pole, and detected snow there for the first time.
Both Phoenix and Spirit are now sadly out of commission, although both exceeded their planned mission life. ®
Sponsored: Minds Mastering Machines - Call for papers now open