Asus UX21E Zenbook 11.6in Ultrabook
Thin! Small! Mad! Gorgeous!
Video nasties
Unfortunately, the Sentelic trackpad drivers are pretty bland and its help videos failed to work. But then this was a brand new Windows PC: I've never known videos to work properly on a fresh installation of Windows until you abduct Windows Media Player in the middle of the night and drive it out to a lonely spot, where you ritualistically murder it and leave its lifeless body rotting in an unmarked grave.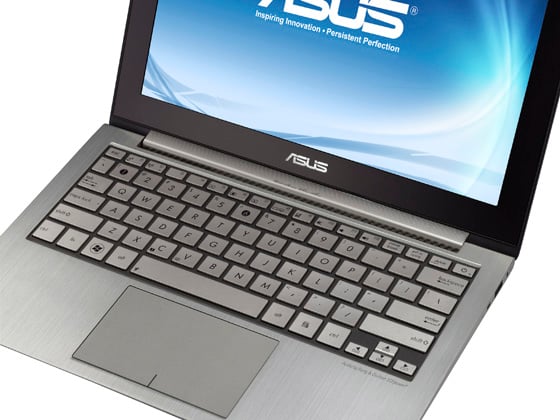 The keyboard is very pleasant to use and the metallic key caps do not rattle
Turning to the Zenbook UX21E's display, I was very pleasantly surprised with how well it fits into the size constraints of the case. As a rule, being someone who uses a 27in display and extends my desktop onto a second 23in display as well, I'm not a fan of diddy little 11-inch notebooks. Perhaps you can work on them, but to me, they're toys or (at best) gadgets that fill the gap between two proper computers.
Yet here on the Zenbook UX21E, the 11.6in display with its 1366 x 768-pixel resolution felt right. Breaking with routine, I did not rush to plug in an external monitor. Instead, I tried to use the UX21E as it was intended: on the road, on the train and, increasingly, just in my hand.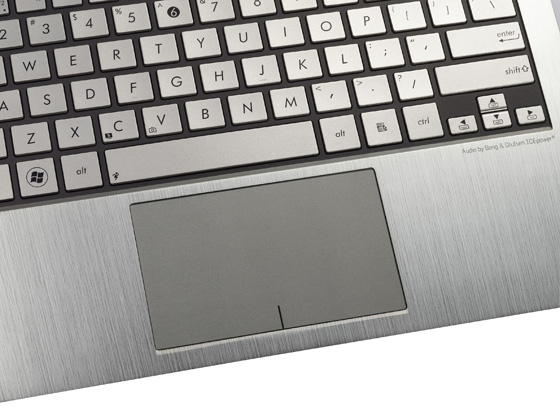 The multi-touch trackpad is wonderfully sensitive: no pressing required
In the end, I found myself instinctively holding the computer between thumb and fingers of one hand while typing or trackpadding with the other, as if I was using a tablet. It weighs just over 1.1kg, however, so this approach won't suit the weak-wristed.
The only problem with the display is that it is just like most other notebook displays in that it suffers from an extremely acute vertical viewing angle. I always had to tilt it back and forth, over and over again, each tiny adjustment sending the screen too dark or too pale before I could set the it in just the right position.
Despite the skinniness of the case, Asus has managed to build in a couple of USB ports, one of which is USB 3.0, plus micro HDMI and mini VGA. When I plugged in a USB 3.0 external drive into the USB 3.0 port, Windows didn't bother waiting to instal the driver before misadvising me "You can get faster performance from this device if you plug it into a USB 3.0 port". Naturally, a minute later, with the driver installed, the USB 3.0 port worked fine.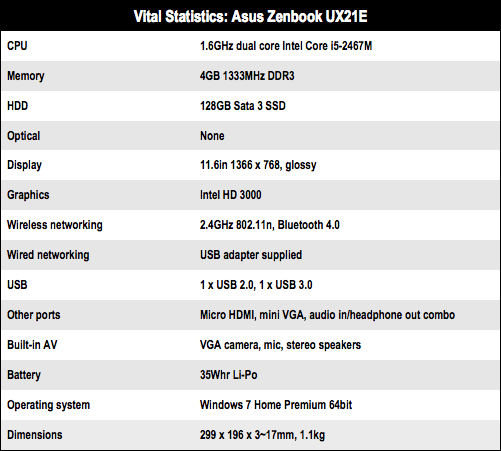 Sponsored: Minds Mastering Machines - Call for papers now open