Asus UX21E Zenbook 11.6in Ultrabook
Thin! Small! Mad! Gorgeous!
Review Having already reviewed the slightly larger Asus UX31E Zenbook for El Reg, and quite liking it, I whinged that sending me the UX21E model would be a waste of time. It wasn't, obviously, because you're reading this. I loved it. In fact, I preferred it.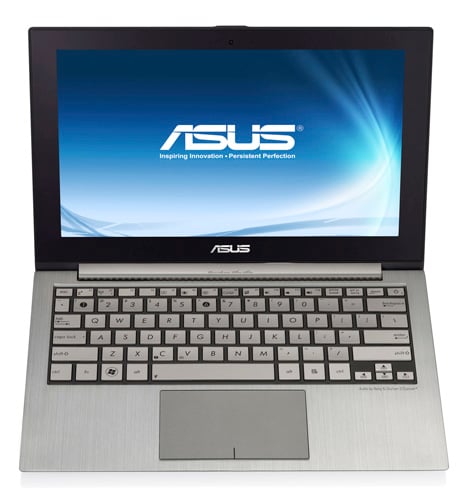 For such a small device, the Asus UX21E has a big feel – in use, nothing seems cramped
The Zenbook, if you didn't know already, is Asus's take on the growing Ultrabook craze kickstarted by Apple when it decided to turn its MacBook Air from a smart-arse tech demo into a half-decent portable computer. Naturally, cramming a Windows PC into a notebook that's roughly a centimetre thick – and that's with the lid shut, by the way – involves sacrificing components. In my opinion, Asus made all the right decisions when choosing what to put in and what to leave out.
For a start, the brushed aluminium case is the case: it's not just some ghastly surface effect. Such a skinny computer would be dangerously flimsy built from plastic. During on-the-road testing, the solid metal build of the Zenbook prevented me from accidentally folding it in half – in one instance, diagonally (don't ask).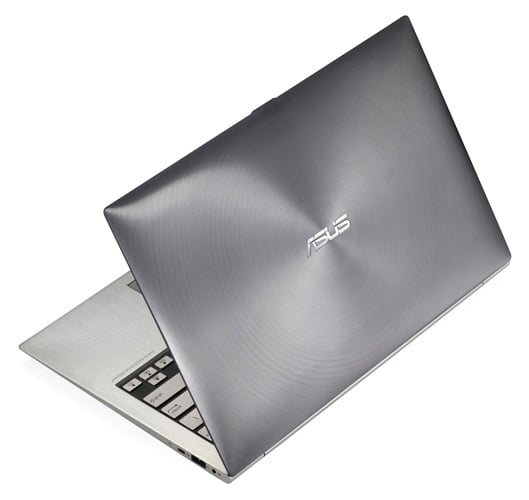 Build from (not just clad in) an aluminium alloy, the case is extremely sturdy
Opening the notebook is a bit tricky. Perhaps it's a security feature, but getting a grip on the micron-wide overlap between the flush lid and base isn't something I could achieve without a struggle every time.
The case then opens smoothly and silently to reveal a pleasantly uncluttered keyboard layout with 12 Function Keys but no numeric keypad. The metallic key caps look as if they might rattle but they don't. In fact, the action of the keyboard is unusually quiet and it is very comfortable to use. If I had to be picky, I might complain that black labels on metallic key caps are less legible than, say, black on white or vice versa. But I can't say I ever thought about it while testing.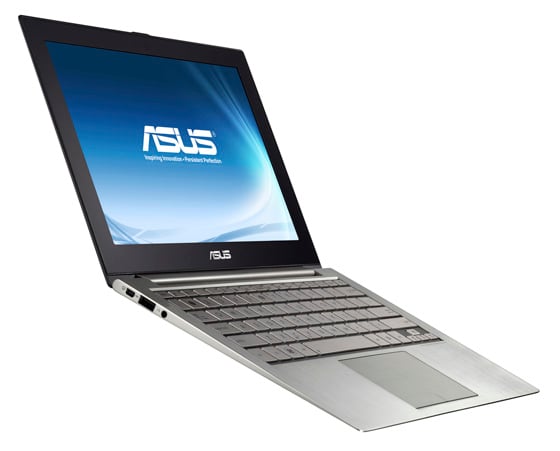 Yes, it really is that thin. I ended up holding it in one hand like a tablet
In front of the keyboard is a trackpad that at 104 x 63mm is unexpectedly large for such a small notebook. It supports one-, two- and three-finger gestures, including scrolls, swipes, zoom and rotate. It even has a little line printed near the front edge to help fuckwits work out where to tap for left and right clicks. Best of all, the trackpad is sensitive to a light touch, so no brutish pressing or squeezing is required.
COMMENTS
tedious troll
This kind of lame trolling is why every right minded individual hates apple zealots
Not slagging the Air...
However, I think Apple could learn something here by including a slip case and maybe even monitor/Ethernet adapters. After all, they aren't the cheapest tin in the world and putting a few extra items (one of which is a protective measure) would put some polish on the product.
Yes indeed, it does look very similar to a MacBook Air. Which in itself looks very similar to the Vaio X505 of 2004. What's your point?
I am truly unsurprised that you.........
............posted that as an AC.
Fair play to Asus
Finally someone has done what the whole ultrabook project was about, made a macbook air clone which is good enough and at the right price to get some windows based machines into that marketplace. I've only ever had good experiences with Asus kit and my Transformer is excellent.
Shame that the screen has such a poor viewing angle, a good screen makes such a difference on a machine you use a lot, but other than that doesn't seem to be much to complain about here.
I'd rather spend £60ish more and get the 11" Air with comparable spec and better screen personally, but if the slipcase, accessories and OS make a difference to you then I can completeley understand going for the Asus.
It's nice to see some proper competetion in this sector, can only be good for the consumer.