Lenovo slates Ice Cream Sandwich for ThinkPad tablet
Unlock your fondleslab with your face
Lenovo will update its ThinkPad Android-based tablet to Ice Cream Sandwich in May, the PC giant said last night.
The business-centric fondleslab currently ships with Android 3.1 Honeycomb. The new version of the operating system will be delivered over the net, across Wi-Fi or 3G, since the ThinkPad has both.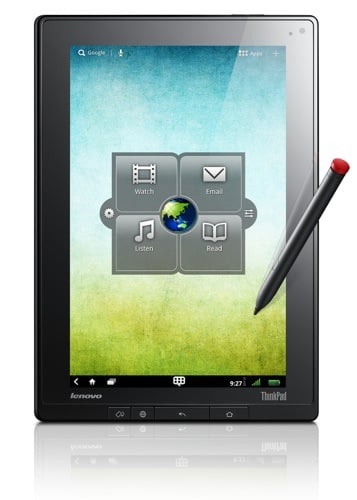 Lenovo touted Android 4.0's enhanced web browsing experience, the OS' voice-input system and how it less users unlock the screen simply by leering into the tablet's webcam.
Lenovo also offers Android 3.1-running tablets under its IdeaPad brand, but it has yet to say when - or if - these products will be updated to ICS. ®
COMMENTS
<sarcasm>
But then what will you do when you get in your car, and it has - gasp - a steering wheel and gear-stick? You will be unable to use it because it's interface is different from Windows 8? What about your kitchen knives? Will you cut yourself because the interface is not W8?
</sarcasm>
<TROLL>
Although in reality I see what you mean. I always have problems because in Visio & IE I have to use CTRL-F to find, but in Word/Excel CTRL-F changes font. In those apps I have to use CTRL-B for find, although CTRL-B does bold in visio. Also I have to use CTRL-S to save in Visio, but in Word/Excel CTRL-S does underline (and your document wasn't saved) to save it I need CTRL-G.
</TROLL>
So if I buy a Windows 8 tablet...
...I'll get a similar experience across my Arc S, Nintendo 3DS, Mandriva-loaded laptop, Ubuntu-loaded desktop AND the singular Windows 7 installation that will probably live with me for longer than the undead Windows XP? Now that really would be a neat trick.
Or do you mean a unified experience across one single company's products, which is something many companies do?
@Jim
Not sure what the hate is against you. I understand your point about having a common interface, but for me a common eco-system is more important.
I couldn't really care if the way I interact with my touch-screen phone and keyboard/mouse desktop was different, as long as getting data between them is easy and it can be opened on both. Things like Opera Link and Evernote, for instance.
When someone with an iPhone asks me what tablet is best, I point out that I'm a fandroid and say a Transformer but that the iPad would fit better with their phone.
I don't even run most of the same apps on my Desire to my Transformer - they're different solutions to different needs.
oh btw
This is an article about an Android product... your comment has nothing to do with the subject of the article.
It's like when there is an article able a WP7 product, and the first comment is a statement of how the iPhone 5 will kick it into the bushes.
Eh.
I mean Microsoft are only going to provide a similar experience if everything you own runs Microsoft Windows. I'm not about to go out and buy an Xbox when I like Nintendo's current offerings far more. I've already got a reasonable tablet and a decent phone, and I'll replace them when they break. Possibly before if technology progresses so far that the app supply dries up. The replacement will probably be something that can continue to run the old apps, so likely not a Windows 8, 9 or 10 tablet.
That and I don't like Microsoft very much and I'm wondering if Microsoft's utter failure in the mobile space is the first chance in 30 years for a common platform that's as ubiquitous as Windows but doesn't involve an entire industry dancing to one company's tune and paying through the nose for it. Android's about the best bet so far, even with Google running the "main" branch as it were.
That aside though, as you can see, Microsoft are asking tall if they think everyone's going to go out and buy a new Microsoft Everything just to have Metro Everything. It's something of a Marmite interface anyway.