Hitachi GST pushes out boosted SSD
Intel's new NAND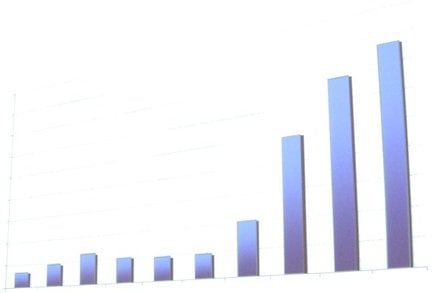 Hitachi GST has birthed a boosted Ultrastar SSD using Intel's latest 25nm NAND. Intel launched its own 520 just a few days ago.
In these frenetic days of flash hyper-awareness, close attention will be paid to the performance of new flash drives to see if suppliers are keeping up with the pace or slipping behind. The Ultrastar SSD400S.B has jumped from Intel 34nm NAND to 25nm and gained a near 30 per cent boost in random read IOPS, delivering 57,500 of them versus the first generation SSD400S products 41,000. The other gains aren't quite so great but still good. Random write IOPS improve from 21,000 to 25,500; sequential read bandwidth from 516MB/sec to 536MB/sec; and sequential writing from 458MB/sec to 502MB/sec.
Intel's own 6Gbit/s SATA 520 delivers 50,000 random read IOPS, 42,000 random writes, 550MB/sec sequential write bandwidth and 520MB/sec bandwidth for sequential writes. Capacity points for the 520 are 60, 120, 180, 240 and 480GB – whereas the Hitachi drive, with a 6Gbit/s SAS interface, offers 100, 200 and 400GB.
Obviously performance improves generally as capacity goes up, but Intel's own drive looks a better performer than HGST's Intel-based drive. We know the Intel drive uses Sandforce SF-2281 flash processors with exclusive Intel firmware. Perhaps the HGST product does not use the Sandforce processors? It certainly can't use Intel's firmware.
The HGST drive is faster than the 520 on random read IOPS but slower on the other three main performance numbers, and this looks like Intel competing with its own channel and not doing HGST any favours. In fact it looks like HGST got the short end of Intel's flash stick. We can't imagine coming HGST owner Western Digital looking favourably on the HGST-Intel deal. After all, it could buy in Sandforce controllers too.
HGST gives its gen 2 400S drive a lot of endurance. The 400GB product can withstand writing 19.2TB a day for five years before starting to wear out; that's 35PB over the life of the drive. Tom's Hardware thinks the 520 can write 7GB of uncompressible data per day for 5.12 years, and it looks as if HGST has the endurance edge, although we don't know if its endurance is for compressible or uncompressible data, assuming the latter.
We're told potential OEMs are qualifying the HGST drive now and production should ramp up by the mid-point of the year. ®
Sponsored: Minds Mastering Machines - Call for papers now open