VMware crafts mega-controller for public clouds
Easier provisioning for service providers, resellers
If VMware wants service providers to dump Xen and KVM hypervisors, it has to make the job of using the VMware stack easier than the hodgepodge of usually hand-crafted tools that service providers employ and that, to a certain extent, give them their competitive advantage. Or, perhaps in some cases, a competitive disadvantage. So VMware has cooked up a special uber-controller aimed specifically at service providers, called vCloud Integration Manager.
It's no secret that public clouds such as Amazon's EC2 and Rackspace Hosting's Cloud are not powered by VMware's ESXi hypervisor and the add-on vSphere management tools and vCloud Director cloud fabric. The public clouds are largely based on Linux operating systems and Xen hypervisors, although Red Hat's KVM is also seeing some uptake and there are some that are using Microsoft's Hyper-V as well.
VMware has no chance at all of having Amazon dump its homegrown tools. But just about every other service provider and hoster in the world knows that VMware rules virtualization in the corporate data center, particularly for Windows Server workloads. And they know that VMware has the money to invest in tools to make the lives of system administrators at service providers that are building infrastructure clouds that sit beside their traditional hosting operations a little bit easier. If the tools make using the VMware stack easier to build and manage a cloud, then in theory a hoster can build a VMware-based cloud and go after businesses with cloud offerings that boast that they are compatible with the internal virtualized infrastructure that companies use.
vCloud Integration Manager has a number of different components that overlay the ESXi hypervisor, the vShield security code and virtual switches, and the vCloud Director cloud fabric that turns racks of servers into a cloud utility.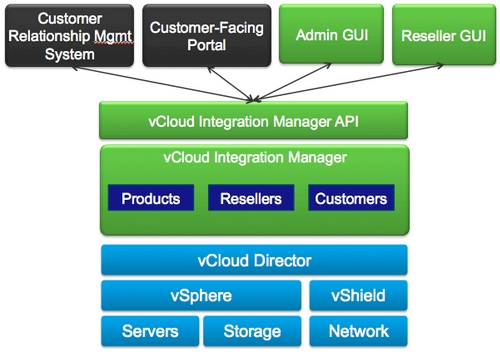 vCloud Integration Manager: Making life easier for SPs
The important part of the Integration Manager tool, explains Mathew Lodge, senior director of cloud services at VMware, in a blog post, is that it includes the concept of a master cloud provider that has resellers and users. This mimics the physical server channel, and VMware and cloud service providers clearly want to take cloudy server capacity through the same channels as physical server capacity because that is the quickest and easiest route to market.
Integration Manager, then, will let resellers peddle and invoke cloud services on their upstream cloud providers in a consistent manner, with the minimum amount of tech support on behalf of those suppliers. Similarly, certain functions of managing the cloud can be exposed to end users so they can manage aspects of the capacity they buy through resellers or directly from a service provider.
As most cloud management tools do these days, Integration Manager has a web-based GUI and a set of RESTful APIs that will allow admins to invoke functions in the tool programmatically. "In production at service providers, Integration Manager will mostly be driven through API calls from the service provider's customer portal or CRM (Customer Relationship Management) systems," Lodge wrote in the blog announcement. "These are typically the 'systems of record' for customer data and product orders, with Integration Manager doing the detailed provisioning work."
VMware says that vCloud Integration Manager was developed at the request of its growing channel of vCloud service providers, which has more than tripled to 94 companies since the third quarter of 2011 when the service provider program was launched.
vCloud Integration Manager will be available before the end of the first quarter. Pricing was not announced, but VMware says it will have a use-based pricing model – with which service providers using other VMware software are already familiar. Integration Manager can talk to vCloud Director 1.0 or 1.5, and presumably will work with ESXi 4.1 and 5.0 hypervisors. ®
Sponsored: Minds Mastering Machines - Call for papers now open