UK's digital policy seized by fanatical bureaucrats, say MPs
'Hey... That's OUR job!'
Stealing isn't theft
Eric Joyce MP [Lab, Narnia] said the Hargreaves review was a welcome attempt to modernise ancient laws, and emphasised that the internet should not be regulated. Steps to enforce IP rights were tantamount to censorship. "It's easy to label people as pirates – but it's just a fact that the internet is a fantastic copying machine, and if you want to criminalise it, you're on a hiding to nothing. It's a highly debatable that downloading is theft."
Brennan responded that it was hardly a victimless crime, and that just because it is hard to do something doesn't mean we shouldn't try. Google should show "corporate social responsibility" and direct people to licensed sites. While the debate progressed, one MP Googling for Empire State of Mind found the first five search results went to unlicensed sites. Google has filtered search results in other countries, but doesn't want to in the UK.
Joyce sits on the Advisory Board of the Open Rights Group. Voters sympathetic to the view that piracy isn't killing music might wish for a more convincing representative in Parliament. Joyce has claimed more expenses than any other MP, used taxpayer money to buy oil paintings "because they looked nice", and was the first to break the £1m expenses barrier. Maybe freetards get the MPs they deserve?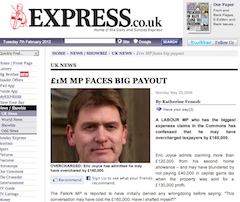 One of the most thoughtful contributions came from Mark Field [Con, Cities of London and Westminster], and it's worth quoting at length.
The West relies increasingly on intangibles, such as IP, as China produces more physical goods. We have to look after those rights, he said.
"Within 20 years, IP rights will be due for a philosophical shakeup," he predicted. China will begin to argue that traditional IP structures are no more than the West using its might to maintain economic dominance. "We should look out for China putting a more forceful argument during increasingly fraught WTO meetings in the years ahead," he predicted. "Our bargaining hand may prove to be much weaker," he added, as a result of China holding so much equity in Western businesses.
"Look out for the terms by which Chinese investments are made in our companies. Requests for technology transfer will be written into more and more contracts."
It's an interesting argument, and one made at El Reg before. While intellectual property debates tend to focus on the evils of the music business, or Google, the bigger picture is that IP is about all we do well now. The UK in particular exports more per capita than anyone else in the world. If we lose our ability to enforce UK IP globally, there will be no wealth to spread around.
The government responds
Responding for the government, BIS minister Mark Prisk [Con, Hertford and Stortford] argued the need to review IP – but conspicuously failed to defend the IPO.
He stressed how important IP is to the economy, highlighting that we now invest 30 per cent more in intangibles than we do on physical assets. He cited James Dyson and his vacuum cleaner as an example of how important IP is to growth, in quite unexpected ways.
Expect something on web-blocking quite soon, Prisk hinted.
As for the IPO, the absence of any defence at all – from the Minister in charge – was ominous. But then Quilty and Alty are lifelong civil servants who have broken a couple of the Mandarin's golden rules. Firstly, remain invisible at all times. And if you're visible, Never, Ever Allow Yourself To Become The Story. ®
Sponsored: Minds Mastering Machines - Call for papers now open