US adds more jobs than expected in January
Lots of IT workers get pink slips
The US economy added 243,000 net new jobs in January and the unemployment rate has ticked down two-tenths of a point, according to statistics released by the Bureau of Labor Statistics.
The BLS, part of the US Department of Labor, surveys businesses each month to track employee counts and surveys American households to calculate the unemployment rate.
The good news is that the unemployment rate was down to 8.3 per cent and, perhaps better still, the economy added more jobs in November and December than previously thought – as well as adding more workers in January than anticipated.
Economists had, on average, been expecting for only 125,000 net new jobs to be added in January as temporary retail and courier workers were given pink slips, but as it turned out, the private sector (meaning, not farmers and not local, state, and federal government works) gave jobs to 257,000 workers. Government shed 14,000 workers, less than the trends over the past few months. Moreover, the BLS had projected that the US economy had added 100,000 workers in November and 200,000 in December, but went back over the numbers and now says in the January 2012 jobs report (PDF) that it is more like 157,000 in November and 203,000 in December.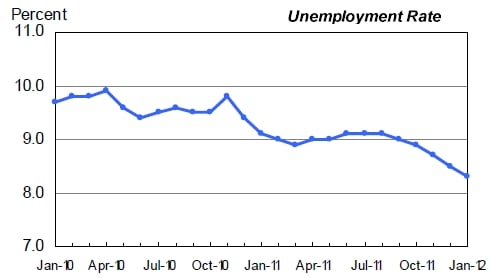 Companies engaged in professional and business services – many of them in the IT sector – added 70,000 people in January, and those in the leisure and hospitality industry added 44,000 people. The healthcare industry is booming, as it has been throughout and despite the Great Recession, and added another 31,000 people last month, while wholesalers and retailers added a combined 33,000 people. Clothing and accessory retailers shed 14,000 jobs – that 33,000 is a net new worker count. Manufacturers boosted payrolls by 50,000; construction companies added 21,000 people; and mining companies added 10,000 workers last month.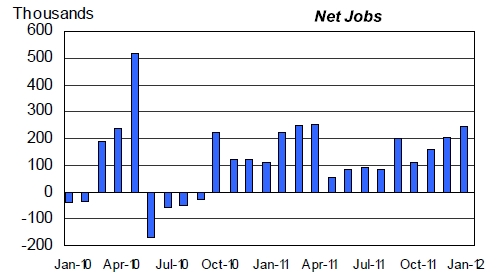 The Department of Labor does not count jobs by function and title, but rather by industry. That means you can't see precisely how IT jobs are faring. But you can use the industry data in the employer's survey to get a feel for what's going on in the IT sector.
Oddly enough, computer and electronics manufacturers bucked the manufacturing trend and actually shed workers in January, losing 6,600 workers to just over 1.1 million people. Within this group, those making computer and peripheral equipment cut 300 workers, to 162,400 people, and those making communications equipment cut 1,400 people, to 111,500 workers. Semiconductor and electronic components makers now employ 385,600 workers, according to the BLS – which means the sector is down 1,400 people as well.
Within the information sector – which includes publishing in its many forms as well as movie and sound recording, telecoms, and data center hosting – the telcos continue to chop, shedding 5,100 jobs to a total job pool of 846,800 workers in January. Data processing, hosting, and related service providers cut 4,900 workers, to a total of 238,800 people.
Within the professional and business services sector, companies engaged in computer systems design and related services had 1.55 million workers, down 11,100 people in January. And those peddling management and technical consulting services shed 25,200 jobs, to just under 1.1 million workers. ®