Brit space agency sends up 1st satellite
Yes, this is news
So far, the UK space agency hasn't gone in for any of that headline-grabbing stuff like landing people on the Moon or launching Martian probes that get stranded in orbit before plummeting back to Earth – it leaves that sort of stuff to NASA and Roscosmos.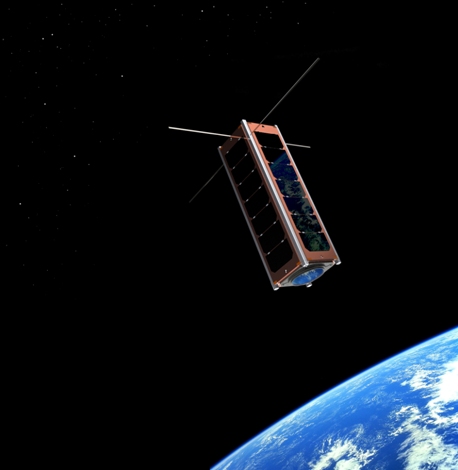 Willy Wonka's elevator Blighty's first-ever satellite...
The UKSA is usually just quietly involved in whatever the European Space Agency is up to, supplying parts and expertise to a variety of missions. (Apart from the International Space Agency, because the UK has elected not to get involved with manned space projects for now.)
As a result, there hasn't been too much to say about the body up to now. But that will change this year, with the launch of the first bit of genuinely UKSA kit into space.
UKube-1, a teeny-tiny satellite carrying a variety of scientific experiments, is due to launch later this year – providing it can find someone to hitch a lift from.
"We're still in discussions with potential launch providers for UKube-1, and are working hard to find a launch option for the satellite," head of communications Matt Goodman told The Register.
"Since cubesats tend to 'piggy-back' on larger payloads during a launch, finding an opportunity with the right orbital configuration is not straightforward."
This is a typical situation for modern space agencies, few of which seem to have the money to put their galactic ambitions into practice without a little help. And as the UK's agency isn't even a year old yet, it's not too surprising to find it in the same position.
But despite having to depend on other agencies for rockets, the UKSA is hoping that this year's UKube won't be the last.
"The idea of Cubesat is that we see it as a series with a launch every year or maybe two years allowing the sort of people that wouldn't normally get access to space to run experiments in it," David Williams, head of the agency, said.
"We'd like to see this being an ongoing programme because it gives university groups, and even school groups and amateur groups, the opportunity to test fly equipment. It also gives industry the opportunity to test fly and to develop ideas on bits and pieces of electronics."
The reason this is even a possibility is because Cubesats – a type of mini-satellite for space research – usually have a volume of one litre, a mass of around 1.3kg and typically use off-the-shelf components. In other words, they're cheap.
"It's tens of thousands, it's not a big number," Williams said of the cost of a single UKube.
Mini-satellites aren't exactly the sexiest space project going, but they are the first thing that the UKSA will be properly sending into space. And besides, the agency does have its hand in one really sexy space project: Skylon.
Skylon is an "unpiloted, reusable spaceplane intended to provide inexpensive and reliable access to space", according to the website of British firm Reaction Engines, which is hoping to build the new craft. (Read more about Skylon's techie bits here).
The project got the okay from the ESA in May last year, which said there was no reason why the design wouldn't work. Unlike UKubes though, Skylon has one major stumbling block: it'll be bloody expensive.
"We're trying to work with [the team] to work out how they can raise the necessary finance and whether government should have any involvement in it in the future," Williams said.
"It's going to be an expensive programme, several billion pounds over quite a long period, and the question is which industries wish to be involved, how UK should it be, how European should it be, should it be an international project?" he added. "The idea of a true single-stage-to-orbit plane is very novel."
Sponsored: Minds Mastering Machines - Call for papers now open