TV tuner maker intros mobile Freeview pick-up
Streams digital telly over its own Wi-Fi
TV tuner maker Hauppauge has introduced a mobile gadget that streams Freeview content to you phone, tablet or computer over its own wireless network.
The MyTV 2GO makes Freeview digital TV shows appear on a free app that's available for iDevices, Macs and Windows PCs.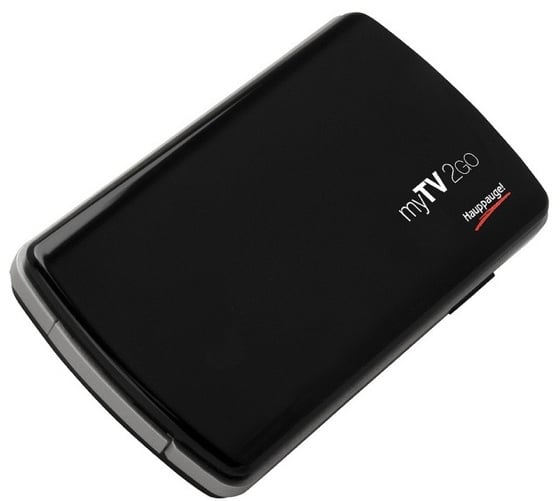 The gadget has its own lithium-ion battery for, the company claimed, three-and-a-half hours' viewing.
From the look of the device, it's the same bit of kit that TV tuner specialist Elgato has already been offering for some time as the Tivizen, itself a device produced by Chinese company Valups.
Reg Hardware has reviewed the Elgato Tivizen here.
The Hauppauge MyTV 2GO goes on sale later this quarter for £119. ®
COMMENTS
where will you put the dish?
USB DVB-S/S2 tuners already exist for home use.
If you're out and about how are you planning on mounting and aligning your satellite dish?
You've not really thought this one through, have you? :)
How hard to do ATSC and DVB?
Many companies pump out DVB, ATSC, CMMB, ISDB etc demodulators for the (very price concious) TV and STB market, it makes no sense for this kind of product to use anything else.
The few multi-standard demodulators that do exist are generally software defined receivers, these are very expensive in comparison and generally only go into expensive test and measurement equipment. Look up Rhode and Schwarz test equipment as an example.
So, it's not very hard to do but it is very expensive.
Then you have to think about why you'd want to make such a thing, the number of people who need multi-standard receivers is pretty low so you end up with an expensive thing that only is attractive to a handful of people, not a great business model (unless you're R&S).
Why require a custom app?
I've never really understand why makers of devices like this insist upon making things a custom app. Since it is communicating via TCP-IP, why not just make it look like a web server with streaming video and web pages for control?
And I have to wonder, how hard would it be to make a device like this speak both ATSC and DVB, so you are covered everywhere? I've similar devices for ATSC, so it's not like they don't exist.
freeview this, freeview that. What about freesat versions of these things guys????
These things all look good... but for those of us that want to replace our over-priced sky kit and services, something that talks freesat rather than freeview would be good too. :(