Gun controlled lamp hits the spotlight
Taking the pistol
One Taiwanese manufacturer took aim at traditional light switches this week and unveiled a lamp that can be turned on and off with the shot of a gun-shaped remote.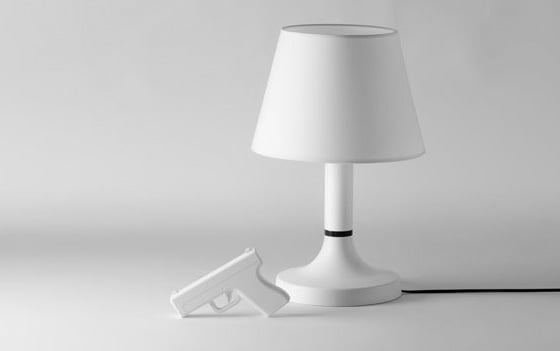 The Bang! desk lamp from Bitplay is put into darkness with a pistol peripheral which causes the lampshade to tip as if the marksman has popped a real cap in it.
Shoot it again and the lampshade rises back up slowly before relighting.
The bright idea was on show at the New York International Gift Fair 2012, where, considering their general enthusiasm for anything gat-related, the American audience must have lapped it up. Check the video out below to see Bang! in glorious action:
Unfortunately, as it stands, Bitplay's Bang! is only available in Asia, although it should unload on the Western front in the not too distant. Worth a shot, perhaps? ®
COMMENTS
) It promotes the bad habit of pointing a gun at something you don't mean to destroy.
Like animals and other humans?
Personaly, given the choice of someone firing a plastic gun at a lamp shade or a well trained, but slightly deranged gunman with an H&K, I know who'd I rather be near.
Look it's just a bit of fun!
If those are your arguments against it, then why have we been giving children toy guns since we invented them (guns that is not children).
All my lava lamps are on remote control and I would love to use a remote control shaped like a gun, it's just so much fun!
Mines the one with the gun in the pocket.
Saved me a job
I was going to have to write something similar, but you beat me to it. I don't shoot or own a gun, but in the past I have been taught good gun discipline, and it's amazing how hard it is for some people to pick it up.
At the end of the day, the lamp is only a toy, but I don't think that justifies all the downvotes for a guy who uses real guns as a hobby in a country where it's permitted (and appears to be doing so very responsibly).
In defence of the NRA Member.
Those of you who don't shoot will never appreciate the time spent training newbies down the range or in the field on how to hold fire arms safely and never, ever point it in the direction of anyone.
It doesn't matter how many times you think it has been checked as been cleared, you never do it! Guns should always be treated as loaded at all times.
The problem is some people are just dim, and bad habits picked up playing with "toys" can be hard to break. Likewise those of us who do shoot will react badly when anything gun shaped is pointed in our direction, it's become an instinct for self preservation.
In the UK; shooting shorts are among the safest activities you can partake in, and it is a very popular activity (despite what our exceedingly liberal media may tell you). Taking part in football, fishing, or ballroom dancing are far more likely to cause serious injury or death.
I thought
lamps had always been at least gun control ready... well, for turning them off anyways