Samsung 'Galaxy 4S' spied in benchmark results
Galaxy S II Plus to stand in for Galaxy S III?
Samsung may be doing an Apple. Since it isn't releasing the Galaxy S III at the Mobile World Congress (MWC) show later this month, how about a tweaked version of its current flagship instead?
Enter - maybe - a reference to the Galaxy S II Plus, seemingly keyed into the An3DBenchXL benchmark app by Samsung itself.
All we can see are the gadget's name, its CPU speed - 1.5GHz - the resolution of its screen - 480 x 800 - and which version of Android it's running: 2.3.4 Gingerbread.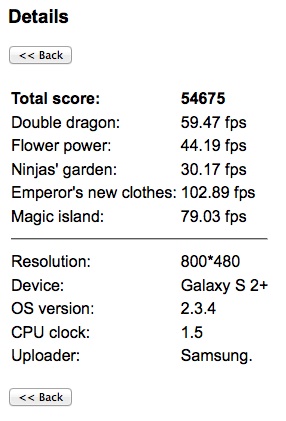 The S II Plus is placed second behind Samsung's Galaxy Nexus in the benchmark's league table.
So would Samsung release a 'Galaxy 4S' in place of the 'Galaxy 5', following the example set by its arch-rival? What do you think? ®
Sponsored: Application managers: What's keeping you up at night?