Samsung 'Galaxy 4S' spied in benchmark results
Galaxy S II Plus to stand in for Galaxy S III?
Samsung may be doing an Apple. Since it isn't releasing the Galaxy S III at the Mobile World Congress (MWC) show later this month, how about a tweaked version of its current flagship instead?
Enter - maybe - a reference to the Galaxy S II Plus, seemingly keyed into the An3DBenchXL benchmark app by Samsung itself.
All we can see are the gadget's name, its CPU speed - 1.5GHz - the resolution of its screen - 480 x 800 - and which version of Android it's running: 2.3.4 Gingerbread.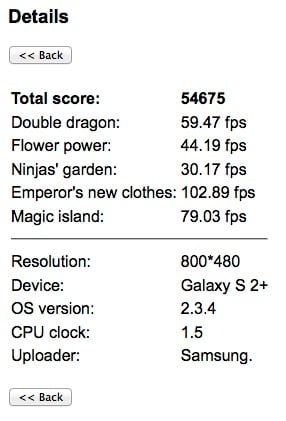 The S II Plus is placed second behind Samsung's Galaxy Nexus in the benchmark's league table.
So would Samsung release a 'Galaxy 4S' in place of the 'Galaxy 5', following the example set by its arch-rival? What do you think? ®
COMMENTS
No, sorry, but this is bollocks not worthy of the screen inches.
They could do it but
Apple would sue them due to that being their preferred business model.
there's already...
...an LTE model. The SGH-I727, branded 'Skyrocket' on AT&T and "Galaxy S II LTE" on Rogers in Canada. The Rogers variant is the 'SGH-I727R' but I don't think there's actually any difference beyond the carrier name stamped on the case.
the story...
you didn't read very carefully: the story claims this result was submitted by Samsung itself.
never mind that
They've already released several SII variants with *stock* clocks of 1.5GHz. And larger screens (4.5" and 4.7").
This whole article reads like it was written by someone who isn't aware there are already about seven bajillion 'Galaxy S II' phones, some very different from others. (My husband's 'Galaxy S II' has more in common, hardware-wise, with my MyTouch 4G Slide than most other 'GSII' variants). Which I suppose is understandable if you're in Europe, where you mostly just get the actual original model. But if you're in NA, it's a rather different story. See:
https://en.wikipedia.org/wiki/Samsung_Galaxy_S_II
for all the gory details.