Robot rabbits take on Facebook, female orgasms
Poked by a rabbit, figuratively and literally
One waits ages for a story about robotic carrot-crunchers, and then two turn up at once as Karotz the robot rabbit starts talking to Facebook while app-controlled vibrator Vibease looks to sell value-added orgasms.
Karotz is the older robot. Already capable of reading out a Twitter feed while cutely waggling its ears, it can now do the same with a Facebook account, and upload photographs taken from its belly-button camera, but Vibease is the more interesting – not because it's a Bluetooth-enabled vibrator – those are old news – but because it plans to make money selling linked content rather than relying on self-administered onanism.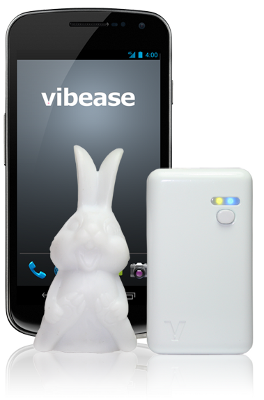 Vibease will launch later this year, and plans to make money selling applications linked to its hardware. In a desperate attempt to get past Apple's censors, the company has been telling startups in Asia that the content will be "erotica", not porn, and no more explicit than content already in the iTunes store.
That's a nice idea, but the existing erotic content all comes from established brands, and Apple's line is that these brands (such as Playboy and FHM) provide an inherent warning about the associated content, while unknown companies haven't managed to get so much as an exposed nipple past Cupertino's prudery.
Karotz, meanwhile, has gained some Facebook integration, so ask it nicely and the rabbit will read out the Facebook feed just as it used to read out Twitter feeds before the two became all-but-indistinguishable. Butterscotch rather marvellously got Karotz to review itself, and provides a video explaining the product: "Basically I sit atop your desk, connected to your Wi-Fi, and try to boost your mood by being cute."
So once placed into "Facebook mode", Karotz will respond to voice commands to upload photographs, and record audio updates to your status. It will even respond to being poked, but not by a Vibease – that would be weird. ®
COMMENTS
> "Basically I sit atop your desk, connected to your Wi-Fi, and try to boost your mood by being cute."
No, you get chucked out of the nearest available window you demonic little fucker.
Merge the two
Why not merge the two and vibrate in response to key words in Facebook updates.
Better yet (for a site with a tech readership) why not have it vibrate in response to your "Server down" warning messages. Bring at least some joy to those annoying weekends on call.
Paris. 'Cause she'd want a low uptime.
It's all fun and games until the rabbit dies...
I'm booking my ...
... 2 berth motorhome as we speak.
Whilst I have many many years to go until I reach the required "sad old fart trying to be a rich hippy and dropping out after retiring" age, I may just pre-empt it all and try and get there early.
Me and the missus would give up our ridiculously demanding high tech jobs and sell every single electronic gadget we own. The proceeds would go into soft furnishings, sleeping bags, yin yang howling wolf moon t-shirts and mugs, plaid shirts. Maybe a Terrier or Jack Russell. (a husky or malamute are a bit big)
This article is close to the final straw.
I can't go on.
Modern life is not only rubbish, it's insane.
I want out - the open road - the whoosh of the wind through my greying hair, the freedom to wobble across the open tundra on my zimmerframe...
Just 30 more years and I will *never* have to read an article like this again, I will never have to cry just a little more inside for the plight of humanity.
Well...
Wonder how long till our demographics overlords come up with numbers on "vibrating time". Here's hoping the wabbit is USB powered...
Baffled at the seemingly lack of ergonomics on the said wabbit though. Or maybe i just cant see the right way to hold it...
p.s. Guess Apples content restrictions might be a safeguard, seeing that most their cult followers are a bunch of wankers to start with, no need to throw fuel at the fire is there...