Fotoshop by Adobé: The miracle beauty treatment
'My skin feels like plastic!' gasps blemish-free babe
Our piece yesterday on L'Oreal giving Rachel Weisz a intensive age-defying makeover prompted several readers to point us in the direction of this remarkable product:
Superb. We contacted Jesse Rosten to see if he'd be marketing his miracle lotion on this side of the Pond, where pockets aren't as deep as James Bond's missus and don't stretch to Revitalist Repair 10, professional photoshoots and the deft hands of retouching experts.
The answer is no, although Jesse did have some advice on how we Brits might make ourselves appear more attractive. He said: "Try alcohol. It's liquid Photoshop (for internal use only)."
It works for us, but for those of you looking for a more permanent solution and without the hangover, alternative help is at hand in the form of a Google ad which just happened to pop up beside our article. You've just gotta love the Great Satan of Mountain View's contextual algorithm: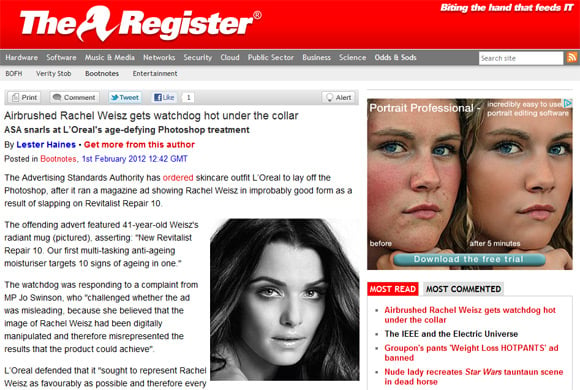 ®
Sponsored: RAID: End of an era?