Metro textual
The web browser, Internet Explorer 9, renders pages extremely quickly. However, this briskness is offset by the need for an extra tap for many common operations – punching in a new URL, changing tabs, navigating to a backwards or forwards. For more general tasks, the on-screen word correction is very handy and intuitive.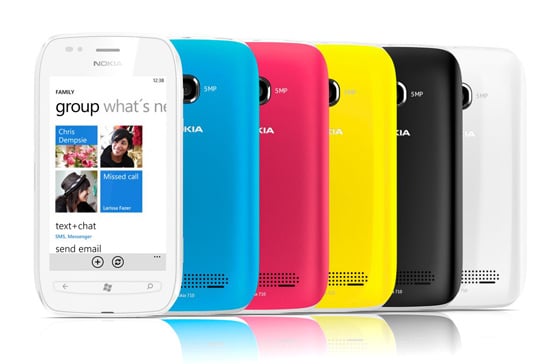 A range of wetsuit coloured backs are available to make it easier to spot these Nokias in the wild
After a few days it became apparent that no matter how good the Metro UI looks, I was using the phone much less frequently for reading. The layout makes poor use of the space available (three Tweets per screen!) and the sans serif font, while fine for signage, is human-unfriendly. Overall, the body text should be tweaked.
I shall expand on these thoughts in a companion piece. But I did wonder how much reviewers and analysts actually evaluate the platforms on which they opine: not much it at all, I suspect, or this would have been noted much more.
Verdict
File Windows Phone, in its current state, under: Great first impressions and shows great promise. Indeed, bargain hunters may be tempted to grab a Lumia 710 as a second phone, but there's a long way to go. Some of the improvements, particularly for power consumption, need to be made urgently, and may deter the undecided. But if you're tempted, at least you can slot in another battery, which is its saving grace in this area. ®
More Smartphone Reviews

HTC
Sensation XL
Samsung
Galaxy
Nexus
Ten… Androids
to outshine
the iPhone 4S
Motorola
Razr
Apple
iPhone 4S

Nokia Lumia 710
Entry-level Windows Phone 7 handset
COMMENTS
The review and summary don't quite match
If the Lumia 710 barely makes it through the day and costs £300, why would you consider it for your second phone?
For most people, the use cases for a second phone are:
A) A phone you can rely on to be working when you can't use your 'primary' phone - usually because the battery is dead. Possibly if you need to use a foreign SIM etc.
B) A phone that's so cheap you can take it walking, sailing, canoeing and bungee jumping* without caring too much if you lose or destroy it.
So you'd expect a second phone to have a battery that lasts much longer than your main phone, and be dirt cheap - something like the £10 jobbies from Tesco, or that Energizer-bunny one.
The Lumia 710 doesn't fit either of those use cases, so I really don't understand which demographic you see using this as a second phone.
I can however see the Lumia 710 as being a second choice if you can't afford the smartphone you really want. That's especially true as there's so little reason to pick the Lumia 800 over the 710.
*Ok, maybe not bungee jumping. Skiing?
Budget?!
In what universe is a £300 phone considered budget? What adjective would you use to describe models costing £20?
Budget model, cheap and cheerful etc ...
... Yet costing getting on for half as much again as for a similarly-specced Android talker. It looks a fine effort, but only really interesting as a budget phone at the sub-£200 level. Hopefully typical discounting will kick in and restore some sanity. £300 gets anything apart from bleeding-edge flagship models from anyone else.
I can't compare the speed of the browser, but with regards to standards compliance, I just scored 100 on the acid3 test