Power struggles
As you might expect, since they share the same internals, the 710 has the same advantages and disadvantages as the Lumia 800. There's no microSD card expansion and no front-facing camera for video calls… and Windows Phone still doesn't support Skype. NFC is absent, too. Battery life was even poorer, given it has a 150 mAh less capacious battery than the Lumia 800. Rival Mango phones such as the HTC Titan sport larger batteries and are less likely to induce panic towards the end of the day.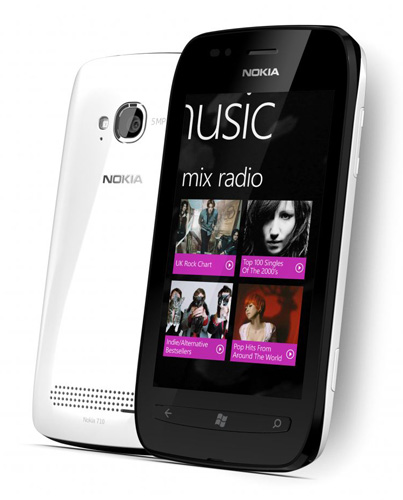 Nokia's music app allows free genre-based music downloads for off-line listening
This UK retail version came bundled with eBay, ESPN, Groupon, SkyNews and Trip Advisor. Home grown bundles includes Microsoft Office, Nokia Maps with turn-by-turn navigation (in addition to Microsoft's Maps) and Xbox Games.
The Windows Phone Marketplace continues to expand rapidly. The 'starter pack' will get most people up and running: Angry Birds, eBay, Flixter, Kindle, Shazam, Spotify and basic Facebook and Twitter apps. There is the odd showstopper from iOS: Plane Finder, for example. But beyond that it's still dispiriting. You're quickly into the dregs.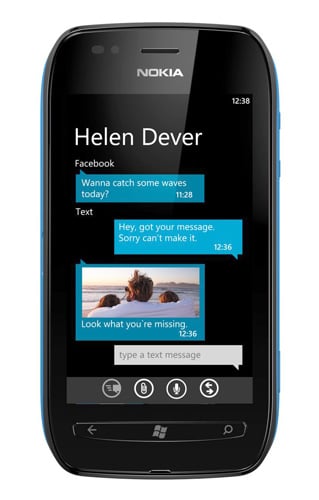 WinPho 7 apps are increasing but many standard offerings lack the versatility experienced on other platforms
The utilities section made me wonder just which demographic had taken WinPho 7 to their hearts: I found such gems as Star Password Cracker, ip Cam Manager, Sleep Talk Recorder, and Invisible Phone – everything the paranoid stalker might need. Oh, and 'How to Tie My Tie' – for the junior paranoid stalker, I guess.
I found the 5Mp camera adequate, but no more. It isn't immediately apparent that a tap on the viewfinder takes a picture. This is something you can turn off in settings. Still, displacing the iPhone for a week was an interesting experience. I regained comfort and responsiveness, with the the UI giving me the sort of instant and up-to-date check on messages that made the Blackberry a success. For my money Mango offers the easiest and speediest user experience on offer to a smartphone newcomer. But this comes at a cost.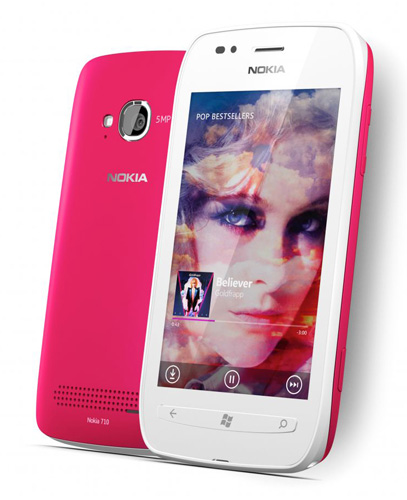 The 5Mp snapper features an LED flash and captures 720p video
It was a crapshoot whether I'd get through a day without needing a recharge, and usually I didn't. Rather annoyingly, too, there's the odd lag in the battery indicator reflecting its state – the first thing I saw after recharging it all night was the battery indicator showing zero charge. It updated after a few seconds, but not after some cussing. And I had to be persistent.
COMMENTS
The review and summary don't quite match
If the Lumia 710 barely makes it through the day and costs £300, why would you consider it for your second phone?
For most people, the use cases for a second phone are:
A) A phone you can rely on to be working when you can't use your 'primary' phone - usually because the battery is dead. Possibly if you need to use a foreign SIM etc.
B) A phone that's so cheap you can take it walking, sailing, canoeing and bungee jumping* without caring too much if you lose or destroy it.
So you'd expect a second phone to have a battery that lasts much longer than your main phone, and be dirt cheap - something like the £10 jobbies from Tesco, or that Energizer-bunny one.
The Lumia 710 doesn't fit either of those use cases, so I really don't understand which demographic you see using this as a second phone.
I can however see the Lumia 710 as being a second choice if you can't afford the smartphone you really want. That's especially true as there's so little reason to pick the Lumia 800 over the 710.
*Ok, maybe not bungee jumping. Skiing?
Budget?!
In what universe is a £300 phone considered budget? What adjective would you use to describe models costing £20?
Budget model, cheap and cheerful etc ...
... Yet costing getting on for half as much again as for a similarly-specced Android talker. It looks a fine effort, but only really interesting as a budget phone at the sub-£200 level. Hopefully typical discounting will kick in and restore some sanity. £300 gets anything apart from bleeding-edge flagship models from anyone else.
I can't compare the speed of the browser, but with regards to standards compliance, I just scored 100 on the acid3 test