Whitehall hopes to shave 'conservative' £100m off PC bill
HMRC man eyes NHS and local government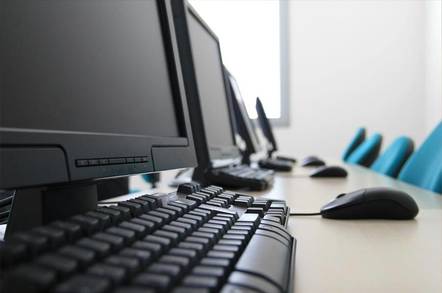 The government expects to cut at least £100m off its annual personal computing bill under an HMRC led standardisation program.
The savings are expected in procurement, services and management, as departments eliminate waste, duplication and overspend, HM Revenue and Customs' Nigel Green told the Government ICT Conference in London on Tuesday.
Green is the Whitehall civil servant leading government's End User Device Programme.
The G-man called his £100m estimate "conservative" and said more could be reclaimed if the programme was rolled out beyond Whitehall to include the NHS and local government.
He reckoned the current cost per desktop for government full-time employees in the largest of departments was £979, and said the spending range itself is huge – between £512 and £5,344.
Total spend by the large departments is £400m on 600,000 devices, which are mostly desktops and laptops – but increasingly include fondleslabs.
The End User Device Programme is part of the Cabinet Office's ICT strategy – which includes the G-Cloud – and was unveiled last year to deliver public services at reduced costs and to cut waste. G-cloud is being driven by civil servants and techies in the Home Office and the Cabinet Office.
Also speaking at ICT, the G-cloud director Chris Chant reckoned Whitehall is about to unveil a raft of deliverables in a programme that's been knocked for not going far enough by West Coast cloud king Marc Benioff, chief executive of cloud CRM shop Salesforce.com.
A first version of the G-Cloud store will be "visible" in the next two weeks. Accreditation has begun for government suppliers and very soon pricing would be unveiled, Chant said. Government departments will be able to start purchasing in mid-to-late February, he said.
Chant reckoned new services – and suppliers – would then be added on a monthly basis.
Speaking to The Reg at ICT, Chant wouldn't say which, if any, of the big-name US cloud suppliers – such as Salesforce or Amazon – are going through the accreditation process.
Green's device programme is affiliated with G-Cloud and his department last year landed the job of establishing a common infrastructure across government departments to hit the Cabinet's ICT strategy's goals. HMRC's framework will establish "solutions" that work well together based on users' jobs as well as establishing good practice guidelines, according to Green.
The framework will evolve over time, Green promised, and won't prescribe specific devices – that's somebody else's job. "This isn't about a single answer. It's about defining a set of details and the building on it," Green told the ICT event in Westminster.
HMRC won't maintain or implement the framework – that will be the responsibility of a group to be crated in March 2013. HMRC will, however, take a lead in adopting the framework, he said.
"It's all going to be about agility and cost," Green said. "HMRC will be one of those lead departments that takes the principles from the end user device strategy and will show how we can roll out IT infrastructure in future and reduce costs."
A first draft of the programme is expected by the end of March, Green said, with the standards then evaluated by a working group. Programmes at the Home Office, Department for Work and Pensions and the Ministry of Justice are being evaluated on "good practice" and on their ability to avoid potential problems, he said. ®
Sponsored: Minds Mastering Machines - Call for papers now open