Samsung reveals Advance-d Android ringer
New star in the Galaxy range
Samsung sent its latest Galaxy handset into orbit today, unveiling the Advance S, an Android blower that apparently strikes a balance between style, power and performance. Of course it does.
The Samsung Galaxy Advance S boasts a 1GHz dual-core processor; a 4in, 480 x 800 OLED display; 768MB of Ram; and up to 16GB built-in storage.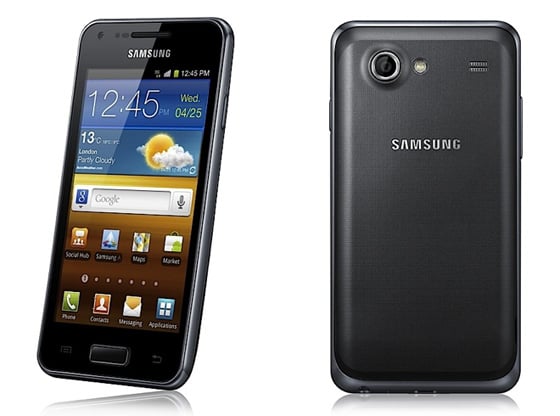 It runs Android 2.3 Gingerbread, spruced up with Samsung's TouchWiz UI, and comes packed with connectivity features through Samsung Hubs and ChatON - the company's own phone number-based messenger service.
There's also 5Mp rear- and 1.3Mp front-facing cameras, as well as 3G HSPA support for 14.4Mbps data connections - if your network operator supports that speed, of course.
The Samsung Galaxy Advance S will roll out in Russia from February, with the European market set to follow in the not too distant future. Prices have yet to be set. ®
COMMENTS
Difference between this and the S2...
OK, so pay attention at the back...:
* Slightly smaller screen (4" vs 4.3")
* Slightly less RAM (768 MB vs 1GB)
* Slightly less grunty CPU (1GHz vs 1.2 GHz)
* Slightly lower quality cameras (5MP vs 8MP primary, 1.3MP vs 2MP secondary)
* Slightly lower capacity battery (1500 mAh vs 1650 mAh)
Also, the Advanced S is shipping with Android 2.3 with no mention of any planned ICS update. Since ICS has been announced as coming for the S2, the fact that this isn't mentioned for the Advance S could suggest it won't be coming at all for that particular handset.
Basically "Advance S" is spot on... it's better than an S(I) but not as good as an SII.
How is this phone any different to the Galaxy S2?
So it's inconsequential at best then?
Would have been nice to know what market this phone was aimed at in the review. Comparison between S2/S3, etc.
S2 available at that price
On t mobile via tesco phone shop