Soul Calibur V
Blades of glory
Mix and match
More impressive still would have been the integration of fluid move animations and stances depending on the opposition – so that the mere scrap of a girl couldn't fling the 500lb behemoth ten foot into the sky, like so many rags.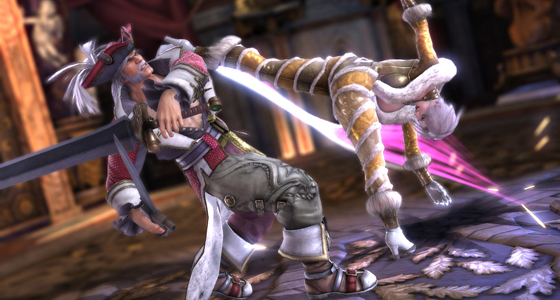 Heel some wounds
However, with that still seemingly impossible with current technology the balancing at least ensures that his might is undone by her speed, at least, it can be in the hands of a talented enough player.
Those who have seen the game's box art will know, Assassin's Creed stalwart Ezio Auditore fills the cameo role once played in previous Soul Caliburs by Link, Darth Vader, Spawn and more. Sensibly, Ezio is reasonably simple to direct and so a perfect choice for first time adopters. He's also a natural fit and hoot to play as, combining as he does ranged attacks with his patented hidden blade swipes when up close.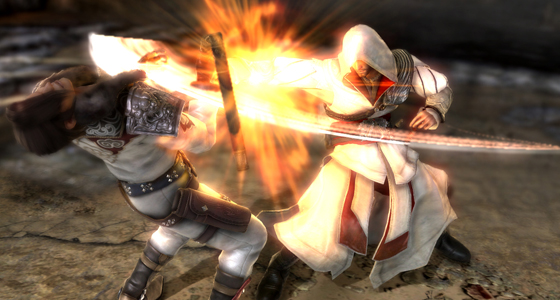 Assassin's bleed
Other new characters can be a tad trickier to perfect, the werewolf spirit unleashing Zwei, for instance, demanding a real grip of his repertoire of moves before combos and specials can be delivered with anything like success.
He does, like all characters, have the standard button combination when it comes to releasing the game's great leveller, the 'Critical Edge' attack, which is charged and delivered in the same way Ultras Combos are in Street Fighter IV.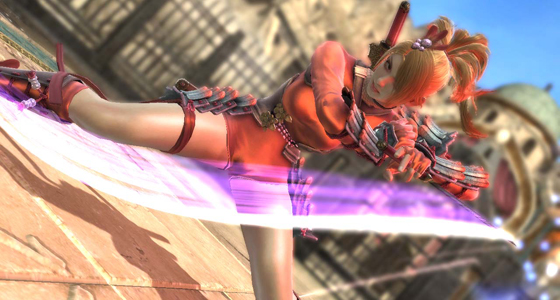 Purple haze
More subtle – and economical on the power bar – than the 'Critical Edge' is the 'Brave Edge' attack which can be used to beef-up a strike or even prolong combos with practice. As a self-confessed Street Fighter aficionado however, the links between combos never feels as deft here, while the integration of a block button never feels as natural as simply pressing away from your opponent. It's almost as if such divergence from Capcom's classic is in a bid to force distinction rather than add benefit.
Sponsored: Minds Mastering Machines - Call for papers now open