First-person shootout world record set
Grand battle royal
MuchDifferent's gaming world record attempt - to pit one thousand players against each other in mass first-person combat - took place this weekend. It missed its target by a single user.
The company's Man Vs Machine game still set the record, though, with 999 people battling it out over the net.
The record, independently confirmed, will now feature in future versions of the Guinness Book of Records: Gamer Edition. Unless it gets broken in the meantime, of course.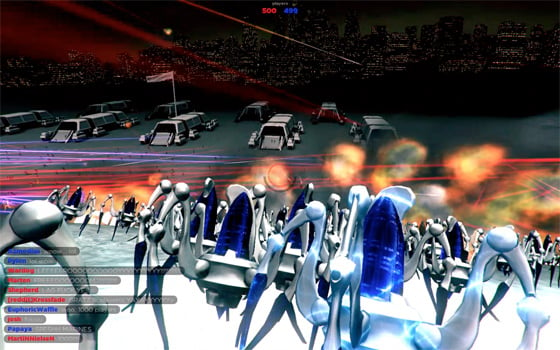 The firm said its next goal will be to make its PikkoServer technology available to developers worldwide to dramatically expand the multi-player gaming experience.
The world record attempt was as much a public demo of the tech the company hopes to sell, as it was a bid to get into Guinness.
Well done and good luck, guys. I hold myself fully responsible for not making up the numbers last night. ®
COMMENTS
That's probably how long it took for the first half of the players to get shot or step into lava or whatever triggers death animations.
Did they take...
... player number 0 (Zero) into account?
i took part ...
It was a good laugh till the last 5 mins of the game.
Up till that point the human side was doing quite well close to the machines spawn point nice mountain for cover next to the machine spawn area.
Then the machines got the upper hand and camped directly out side the humans spawn points.
Inside spawn points you can't shoot, but CAN be killed.
Machine spawn points was an 4-5 open areas so they can move in any direction once they spawned.
BUT the humans spawn inside a few vehicles with a single exit.
The machines camped out directly in front of the exit to the humans spawn points, killing us as soon as we spawned. a few humans got lucky and was able to get outside the spawn point for a second and kill a few Machines before getting killed in a hail of laser fire! :(
yeah, but...
it was awful. worked fine for the first 15 seconds......not sure that it's solid enough for a commercial offering just yet
Based on my experience with 64 player servers in other games, I can't imagine what a clusterfsck this must have been. Not that I wouldn't be interested in trying it, but my expectations would be low.
Icon because that's what I imagine a 1000 player FPS would look like most of the time. ;-)