World will stay hungry for tablet PCs
Strong demand driven by higher res displays
The Western world will continue to lead demand for tablets over the next six years, with growth driven by ever higher screen resolutions.
Market watcher NPD DisplaySearch said today it expects tablet shipments to jump from 72.7m in 2011 to 119.60m this year before reaching 220.45m in 2014 and 328.32m in 2016.
During that time, shipments into the developed world will remain higher than those to emerging markets, despite the much greater size of the latter and falling prices driven by greater competition and cheaper screens, the result of display makers shifting production to factories punching out larger, generation 6 and generation 8 base panels.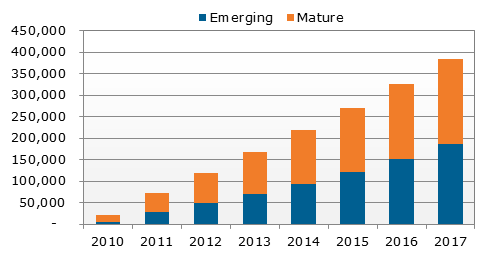 Source: NPD DisplaySearch
Over here in the West, growth will be spurred by the evolution of tablets screens. This year, DisplaySearch's forecast shows, more than half of the tablets that ship will do so with a screen with a pixel density of 150 pixels per inch or greater.
That share will grow further through to 2015 before beginning to level off through 2016 and 2017, according to DisplaySearch's forecast data.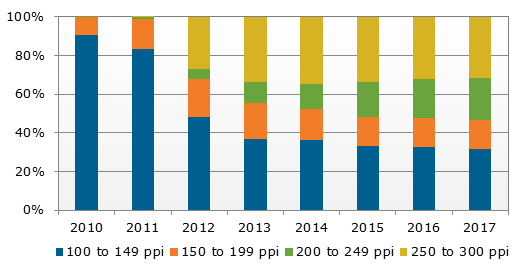 Source: NPD DisplaySearch
As a baseline, the 9.7in iPad 2 has a pixel density of 132ppi. If the iPad 3 does indeed sport a 9.7in, 2048 x 1536 display, it will have a pixel density of 264ppi. Displays with a density of 250ppi or above will have carved out more than a third of the tablet market by 2013. ®
Sponsored: Are DLP and DTP still an issue?