Snake slides back onto Nokia smartphones
Nostalgic grub gobbling
Most people enjoyed playing Snake on their ancient Nokias, gobbling dots and chasing their tail in zig-zags around the screen, at some time in their lives. Well, gamers can now revisit the past and install the ol' classic on their Lumia handsets, retro stylee.
Snake '97 transforms a touchscreen Lumia into a replica of a Nokia 5110 with clunky virtual keys and the nostalgic green screen synonymous with 90's brickery.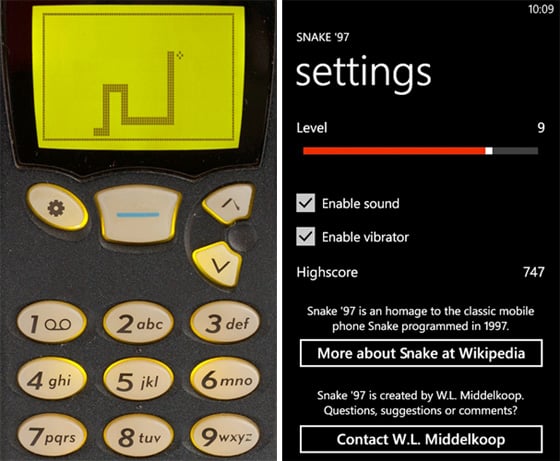 The title really takes things back to basics too with identical sound effects and gameplay to that of the much-loved original.
If you fancy having a crack at reliving the days of 90's mobile gaming, pick up a copy of Snake '97 for £0.79p from the Windows Phone Marketplace. ®
COMMENTS
an homage is correct
As far as I know when something is an homage to something else the word homage is pronounced omarge with a silent h.
If someone is paying homage to something else then the word is pronounced with the h.
So an homage is correct.
silent H
It's the phonetic sound of the word that determines the use of "an" instead of "a".
So "an homage" is correct.
I'm enjoying the choice of old Nokias in the iPhone version, while the missus plays on the free Android version. Strange these were not mentioned in the article..........
Ummm, no
It's not Microsoft that are charging, the app developer has decided they want paying for the game rather than supporting it with adverts. I think 79p is the minimum cost for an app (other than free) in the Marketplace.
I saw this game yesterday and thought, that would be fun, oh 79p I won't bother.
They kind of lost the old snakes game on Nokias...
...I had one with a 3D snakes at one point. Moving over squares or hexagonal tiles, flipping over to the back of the board and sometimes even on a curved surface. Not a patch on the original.