Playstation Vita games match PS3 software prices
Keep 'em steep
As next month's PlayStation Vita launch edges near, publishers have revealed prices for the games that'll be available, with some titles even stretching to a big-ticket £45.
The news that games could cost the same as PS3 titles won't to win favour from gamers, especially when smartphone games can be had for extremely low prices.
Then again, many such titles will struggle to match the quality of those on Vita.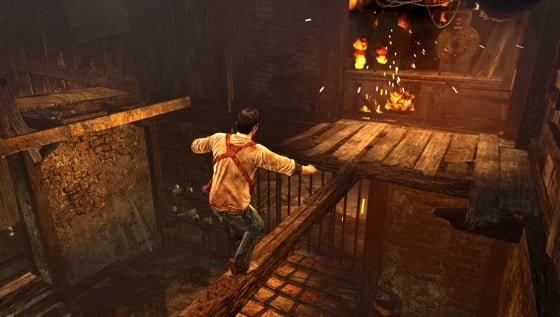 After a slow start to Vita sales in Japan, rumours of a PSV price cut started to circulate. While Sony insists this isn't necessary, the cost of Vita software could be seen as a barrier to entry, especially when the console itself will leave punters over £200 out of pocket.
Check out the list of launch titles with known prices below.
FIFA Football - £44.99
Uncharted: Golden Abyss - £44.99
Formula One 2011 - £39.99
BlazBlue: Continuum Shift Extend - £39.99
Rayman Origins - £34.99
WipEout 2048 - £34.99
Everybody's Golf - £34.99
Lumines - £34.99
Modnation Racers: Road Trip - £34.99
Dungeon Hunter Alliance - £34.99
Shinobido 2: Revenge of Zen - £34.99
Touch My Katamari - £29.99
Army Corps of Hell - £29.99
Little Deviants - £24.99
Reality Fighters - £24.99
Asphalt Injection - £24.99
Michael Jackson: The Experience - £24.99
Ridge Racer - £19.99
According to MCV, some Vita game prices may be slightly cheaper on PSN, although specific details have yet to be announced. ®
COMMENTS
The final nail
Oh dear Sony, one less sale now... your pricing is screwed, just like the Vita will be... its one huge cost after another. £280 for the Vita. Extra £100 for a defent size memory card. £40ish for a game... with a 3-5 hour battery life... sigh. Not good, not good at all!
60m units - yeah, not too shabby
Until you look at the sales of the DS, which has sales in the region of 152m units.
Even the 'failed' 3DS, has sold 15m units in less than a year.
PSP sales
are in the region of 60m units.
Not too shabby at all and makes Microsoft's Xbox360 sales look rather pathetic considering almost all Xbox owners have bought more than one over the last 5 years.
Errm, yes you are
The Uncharted Golden Abyss on Vita, the single player story is about the same as Uncharted 3 (14ish hours).
I'm sure GTA:SA is also out on Vita soon too.
Vita is a full-blown home console in your hands, it can even play all PS3 games remotely too apparently.
Day one purchase for me... Tesco have it for £220 pre-order and gamed for £15.
You say that...
... yet Final Fantasy X and GTA 3/Vice City are coming out on the Vita, so yeah.