Juniper stalled by jittery service providers, product transitions
Switch hitting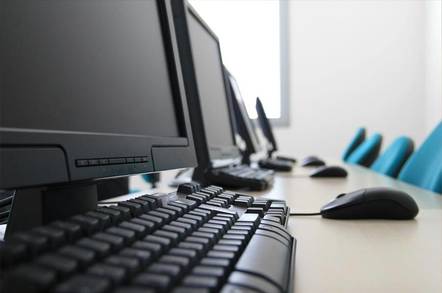 Juniper Networks warned Wall Street earlier this month that the fourth quarter was going to be rough because key service provider customers are cutting back on spending at the same time that the company is putting the finishing touches on some new switches and routers.
The company hit the high point of its revised revenue and earnings per share range, but will probably get a haircut from Wall Street today just because of the product transitions Juniper is facing, the uncertain spending environment, and a refocused Cisco Systems that is paying more attention to its key switching and routing markets.
In the fourth quarter ended in December, Juniper had product sales of $847.5m, down 11.9 per cent, and services revenues of $273.3m, up 20 per cent. Add it all up, and total sales fell 5.8 per cent to $1.12bn. The real hit came to the bottom line, even as Juniper slammed on the spending brakes, with net income plummeting 49.4 per cent to $96.2m.
For the full year, Juniper had $4.45bn in sales, up 8.7 per cent, with product sales rising 6.7 per cent to $3.48bn and services revenues up 16.3 per cent to $970.4m. Juniper's net income slumped 31.3 per cent for the year, to $425.1m.
If Juniper had a bright spot in the quarter, it was from its switch product lines, which had $157m in product sales, rising 32.7 per cent. For the year, Juniper's switch sales are up 30.8 per cent to $493.1m, so switching is accelerating in the wake of revamped edge switch products. The company's EX line of Ethernet switches did well, and so did the modular QFabric family of products, which started shipping last September, according to Robyn Denholm, Juniper's CFO, who went over the numbers with Wall Street last evening. QFabric is just getting its first early adopters and is in various stages of deployment among those adopters in the three key geographies of North America, EMEA, and Asia/Pacific. The product has over 100 customers using the technology.
Routers and service layer technologies were the problem for Juniper, where product transitions and hesitancy on the part of some services providers to spend combined to push down sales. Juniper's router product sales fell 20.8 per cent, to $506.6m, and even a 20.7 per cent bump up in router services revenues to $174.3m was not enough to offset this. Total router-related revenues fell 13.1 per cent to $680.9m
In the quarter, total switching and routing infrastructure sales cane to $849.2m, down 6.4 per cent.
Juniper has a whole other business segment focused on service layer technologies, which accounted for $183.8m in product sales (down 10.1 per cent) and $87.7m in services revenues (up 12 per cent). In this segment, SRX router/gateways brought in $81m in sales during Q4, compared to $92m in Q3 and $30m in Q2. Denholm has said in the past that SRX sales would be choppy depending on how many high-end SRX router/gateways.
The problem at Juniper is not spending among enterprise customers, who shelled out $444.2m in cash to get stuff from the networker (up 9.4 per cent), but rather service providers, who slashed their spending at Juniper to $676.5m (down 13.7 per cent).
Juniper started shipping its T-4000 core routers in the fourth quarter, with two major service providers picking up the gear, but the launch of this product caused sales of prior T Series core routers to slump. The PTX Converged Supercore switch, which has been in beta testing since the second quarter of last year, is expected to start shipping in the current quarter and will help boost sales in 2012.
In the call Juniper CEO Kevin Johnson conceded that while Juniper outpaced the router market - which grew 11 per cent in the first three quarters of 2011 - by growing its own router sales by 19 per cent, it is possible that Juniper will lose some share in the fourth quarter because of the T Series slowdown.
Having gotten 2011 under Juniper's belt and on the books, Johnson is keen to get on with 2012, although the company is expecting the softness in spending by service providers to continue in the current quarter. Juniper is focused on feeding the insatiable need for bandwidth that comes from the cloud and other kinds of high-performance computing with products that Juniper reckons have lower capital and operational costs.
"I think it's going to come down to how well we compete in the market to earn those opportunities," Johnson said on the call. "I do think that there will be places where there will be surgical action taken on price, but I think overall, we feel like we've got differentiation in technology and that comes from our investment in research and development. So we've got to lead with that value. But at the same time, we're very aware of the market situation, we're very aware of customers, and we are playing offense. So we'll see how things unfold."
Juniper is sitting on $2.91bn in cash and another $1.38bn in investments, and it is tempting to think that Juniper could simply buy its way into a larger market share in the enterprise space and make itself less susceptible to the ups and downs of the service provider market. But who would Juniper buy and what would this give it in terms of incremental revenue - given the high valuations of the few remaining independent but sizeable network equipment suppliers? Does an acquisition of Mellanox Technologies, Brocade Communications, or QLogic make a lot of sense with these companies boasting market capitalizations of $1.23bn, $2.6bn, and $1.72bn, respectively?
Probably not. Johnson said that Juniper has done a half dozen small acquisitions in the past two years that were "tuck-ins," filling in gaps in products or that had useful intellectual property and that Juniper was comfortable investing in its own networking tech and growing organically. ®