Nintendo cuts full-year forecast – by BILLIONS
Super Mario-maker hopes Wii U release can help it power-up
The mighty yen and weak sales have combined to take a whack out of Nintendo, forcing the Japanese gaming firm to forecast an even bigger full-year loss.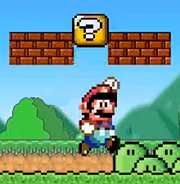 The Wii and 3DS maker had previously estimated a net loss for the financial year ending in March of ¥20 billion (£164.2m), but it's now preparing itself to lose up to a whopping ¥65 billion (£533.9m).
Nintendo's once-groundbreaking Wii has been overtaken by motion-additions to Sony's PlayStation and Microsoft's Xbox, and is showing its age. Meanwhile, the new iteration of its handheld console, the 3DS, has failed to ignite the market.
The Japanese firm cut its sales forecast of the Wii for the year to 10 million from 12 million and now reckons it will sell 14 million 3DS devices instead of 16 million – despite a "significant price revision" in August intending to shift more of the handhelds.
"We had higher expectations for the year-end season, but failed to meet them," President Satoru Iwata told media in Osaka.
The Japanese firm's net income for the October to December period was ¥21.9bn (£179.9m).
However, the company that brought the world the Super Mario brothers is not planning to be left behind for long. Iwata said that the new version of its Wii, the Wii U, would be going on sale in Japan, the US, Europe and Australia in the year end season.
Nintendo will be hoping that the U can raise its flagging fortunes, but the console won't be able to do anything about the strong yen or consumer reluctance to shop in the face of a possible double-dip recession. The firm is also facing competition in new places, such as fondleslab and smartphone gaming. ®
COMMENTS
Missed opportunities
Whenever I think of Nintendo, I think missed opportunities. Take the Wii for example; phenomenonally successful, but so many missed opportunities.
- It has a DVD drive but doesn't play DVDs. Why don't Nintendo release a downloadable "DVD Channel" to enable the functionality? Hell, homebrewers managed it. You could even charge for it.
- For that matter, it's a wifi enabled box. Sell a Media Centre channel. I know it only handles 420p maximum but the current lowish price of the console would make it very cool for second TVs and kids/grandparents.
- Wii Fit was a massive craze. "Maybe for the next version we could allow people to connect up their wii fit accounts and get some kind of competition going? Nah, we'll just add a few more exercises and call it Wii Fit Plus"
I think that Nintendo make very good software but are at best lucky with their hardware choices. It will be interesting to see what ideas they come up with regarding the next Wii, and what they do to ruin the whole thing.
Design fail
have you seen a 3DS?
Someone should tell Nintendo the 80's called and they want their industrial design back.
Seriously I think Ninty see it as an iconic style thats part of the companies unique brand statement. In reality it looks like a cheap chinese OEM import in a world full of iconic looking phones, tablets and PS Vita's.
Re: "PS3/Vita combo already has a killer list of exclusives"
What? Like: 'Generic FPS VII'; '3D Platform Adventure Clone 4'; 'Vanilla Racer XII (Reloaded)'; 'Football Game 2013'; etc, etc, e-t-fucking-c?
Why don't you just sod-off back to Sony HQ?
Guess the name of the new console
Guess the name of the new console:
My guess: given the progression of
Wii
Wii U
The next one will be
Wii U Mii (1st person plural, 2nd person, first person singular).
either that, or
Wil U Buy Mii?
"They have pretty much abandoned the hard core gamer market."
Sorry but this is 6 of one half a dozen of the other. There was a percieved notion that nintendo abandoned the hardcore market (a "market" btw that only seem to emerge this generation, and most people claiming to be part of this market play 3rd person or 1st person online shooters, not what i would consider hardcore, as hardcore gamers as i see themdon't really give a crap about platform and like playing games that challenge them and that they enjoy). This was mainly started by the PS3 and 360 fans who based it for not having HD graphics etc (apaprently this means it nto the current geenration of consoles, forgetting that the current generation is defined by the iteration, not what it does, again a bit of a fallicy)
Basically gamers said its abandoned the hardcore and there are no hardcore games.
So hardcore games were released, No more heroes, madworld , hell even the resi evil shooters.
No-one bougt them because "its on the wii".
So they stopped releasing them because no-one bought them, and so people used the fact that they stopped releaseing them to say that NINTENDO arn't supporting the hardcore.
This is rubbish, the people shouting didn't support nintendo because its abandoned hardcore (most of the peopel shouting just didn't like nintendo, it has no xbox live to act like a big man on , and it was beating there console in sales hands down), and as such set up a self fullfiling prophacy.
Nintendo never abandoned the hardcore, there games have not changed , the playerbase set up a new market and just excluded the console, and as such developers did the same.