Big biz BlackBerry refuseniks adopt Apple over Android
Enterprise iPhone activations dwarf rivals
Smartphone owners working for big business are activating far more iOS devices than they are Android ones - at least those who employed by firms using Good Technology's corporate email system are.
Good this week revealed iPhone 4 activations - the process of tying a phone or tablet to Good's managed push email, calendar and contacts servers - plunged after the arrival of the hugely popular iPhone 4S in October 2011.
Interestingly, iPhone 3GS handsets continued to be activated through Q4 2011, with activation numbers in excess of Android alternatives the Samsung Galaxy S II, the Motorola Droid Bionic, Droid 3 and Droid X2, and the HTC Evo 4G.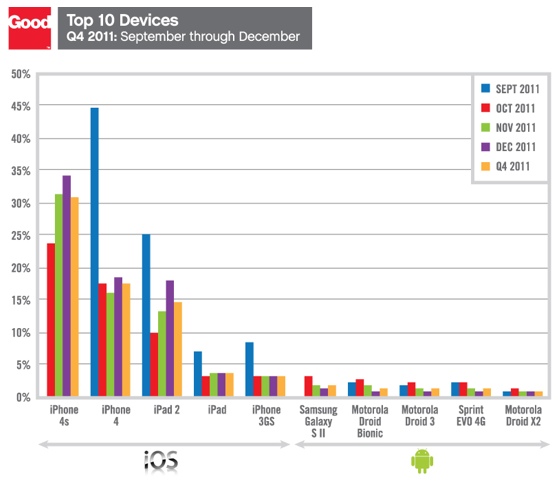 But the volume of activations of these smartphones was dwarfed by those of the iPhone 4 in the final three months of 2011, let alone those of the iPhone 4S.
No Android tablet registered a sufficient number of activations to make the combined tablet and smartphone list.
Good said Apple dominated in the tablet market, with the iPad - a surprising number of these - and iPad 2 accounting for 94 per cent of total tablet activations in Q4 2011 - a stat that's not reflected in the broader consumer market. The Samsung Galaxy Tab has consistently been the most popular Android tablet among Good's users.
Good is no small player. It numbers half of the Fortune 100 companies among its customers. Its software allows big firms not only to roll-out handsets and tablets of their own, but also allows them to support devices employees bring in themselves.
That said, it's second to RIM and clearly represents that segment of the market not using BlackBerry devices. ®
Sponsored: Minds Mastering Machines - Call for papers now open