Orange Tahiti 7in Android tablet
Freshly squeezed fondleslab, anyone?
Contractual obligation
When it comes to browsing, it's pretty impressive. Log in to a Flash-heavy site and the video plays smoothly. In fact, in tests the playback was flawless, even at full screen and over 3G. Loaded with movies files, playback was similarly robust, although sound from the built-in stereo speakers was adequate at best, which is no great surprise for a tablet. It's also easy to muffle the output with your hand when holding it. Headphones, anyone?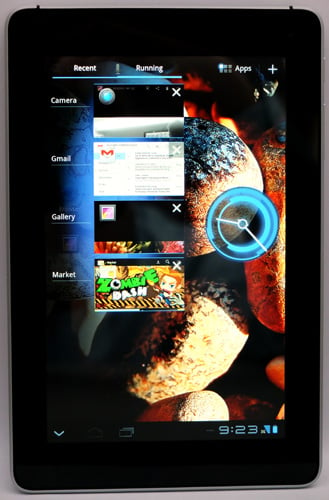 Widgets provide content overviews for different services
The camera is a more than respectable 5Mp, though there's no flash and shutter lag isn't entirely absent. Of course, a tablet remains one of the least manageable forms for a camera, so you'll only be using it for snaps. There's a micro SD card slot so you can expand on the built-in 8GB of memory – you'll need to if you plan on downloading a lot of apps or music.
Not every tablet features a front-facing camera so Orange should be applauded for including one here. It's a 1.3Mp snapper, so more than enough for shooting video of yourself or, more importantly, video calls. Skype video calls only arrived on Android tablets late last year, so this camera makes the most of it.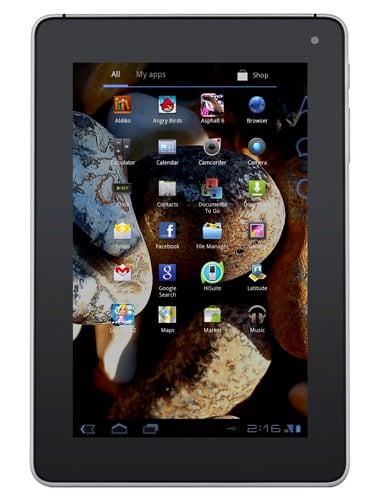 Neat and tidy tablet tie-in
So why would you buy the Orange Tahiti? It's good value if you don't want a big initial outlay – a two-year contract at £25 a month gives you 2GB of data a month and an initial price of £69. Of course, over the two years, this does add up. And while a lot of tablet data usage is from wi-fi sources, the increased portability of the 7in Tahiti means you may have more use for data on-the-go with this machine.
Verdict
This is an accomplished and attractive tablet that is easy to carry and use for extended periods. It has a great screen and an adequate camera. Though it doesn't yet have the latest Ice Cream Sandwich software, its hardware makes it capable of the upgrade. My only reservations are with the occasionally unintuitive Android methodology, rather than the tablet itself, as this is a neat piece of kit. ®
More Tablet and Reader Reviews

Asus
Transformer
Prime
Motorola
Xoom 2
Media Edition
Ten high-end
Android
tablets
Archos
G9 101
Sony
Tablet P

Orange Tahiti 7in Android tablet
Budget 7in fondleslab with looks and strengths beyond its price
Price:
£69 plus £25 pcm for 24 months RRP