Paramount opens Cloud-based movie shop
PayPal support good news for non-US viewers
IPTV Week

Paramount has opened the door of the the first Ultraviolet-based film rental and download service.
The studio said it is offering 60-odd titles initially, though there seem rather fewer when you look at the website. Films are priced at $20 (£13) for an HD copy and $13 (£8) for an SD version. Rent SD titles for $3 (£1.91) or view in HD for $4 (£2.55).
You can pay by credit card or PayPal, and seemingly the latter method makes the US-centric service open to Brits.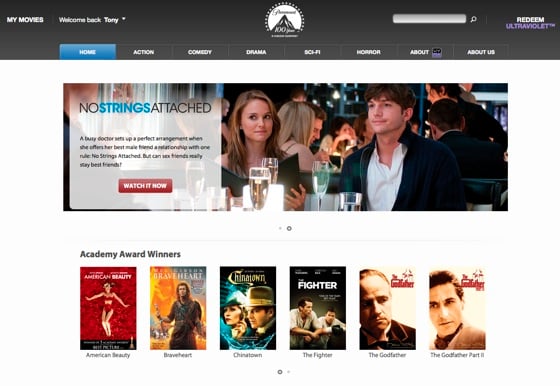 Ultraviolet ties in disc purchases with downloads. Buy, say, a Blu-ray Disc of a supported movie, and you'll get the right to stream it and download it for free too.
The notion is you'll no longer need to rip discs you buy in order to watch their content on kit that lacks an optical drive. No rips mean you'll have nothing to share with other folk.
The movie business also hopes UV's flexibility will persuade freetards to start buying stuff.
UV has an IPTV component too: you can stream your films from the cloud. Content can be bought online, and there's no need to bother with discs if you don't want to.
Paramount said it will stream to iDevices, but not yet to Android, Symbian and Windows Phone kit. Owners of iOS gadgets can only view material in standard definition, even if they've purchased or rented the HD version of a film. ®
COMMENTS
"I have nothing against DRM per se so long as its an open format..."
Classic!
£13
For some DRM locked crap that I won't be able to transcode, lend to friends or give away once I am finished? For that reduced level of use they need to drop the price by £10.
Any they wonder why people use unlocked copies. Sweet Raptor-riding Jay-zuz.
@Radio
Correct, they want to make you buy again and again.
Got some rare recording or something similar you'd like to leave to someone? Just how does one do that with digital media?
And, of course, they could at any time revoke your access and you'd lose everything.
Yup
Pop into the movie store, but 5 for £20 (or whatever the deal is), rip to HDD, watch wherever I bloody well please, in whatever format I bloody well please, on whatever I bloody well please, and whenever I bloody well please.
Illegal? Given SOPA/PIPA/ACTA et al, it probably will be.
Immoral? Not at all. I am not distributing it to all and sundry or profiting. It's all on my systems, in my house and only accessible to my family (who could always just go Old Skool and use the disc anyway).
No it's not
The prices are comparable if not more expensive than physical media and/or other digital delivery systems (iTunes, Amazon).
Furthermore, they are only compatible with their player which, from what I've heard, is a buggy piece of crap.
I became a copyright infringer - according to the letter of the law, which says I cannot make digital copies of my physical media - because I was tired of buying the same Pixar movie for the 4th time after the kids scratched it all to hell. Since this is a streaming only solution, this "alternative" cannot be used (reasonably) in cars or airplanes, which is the exact place I need it for the kids.
It's a better try than we've seen from them before, true... but not really an alternative yet.