Telly makers aim to put OLED in your lounge in 2012
Another five years to wait for the tech to mature?
'Orribly Large Expensive Device?
But there lies the rub: a 55in LCD TV costs, on average, $3700 (£2375), says IHS iSuppli, another market watcher, whereas the first 55in OLED TVs are likely to set punters back around $8000 (£5134).
No wonder, iSuppli reckons only 34,000 of them will ship during 2012. Yes, it forecasts spectacular growth for the technology - shipments will rocket to 2.1m units in 2015, iSuppli predicts - but that's in the context of a flat-panel TV market of in excess of 300m units that year.
OLED will have less than a percentage point of market share three years from now.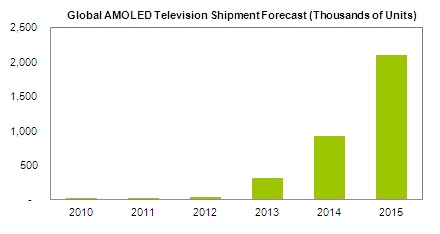 Source: IHS iSuppli
OLED panel prices will not fall until manufacturers mature their production processes. OLED panel yields are unlikely to reach LCD levels for three years at least, reckons iSuppli.
One hope is that existing LCD plants kitted out to produce eighth-generation LCD panels can be converted to punch out OLED screens. LCD generations are essentially a measure of the size of panel a plant can produce, the bigger the better, to allow companies not only to make large screens but to cut many more smaller screens from the big multi-metre panels.
Adapting LCD plants, whether they use amorphous silicon or low-temperature polysilicon processes, should enable the greater degree of competition that is also needed if the price gap between LCD and OLED is to be narrowed.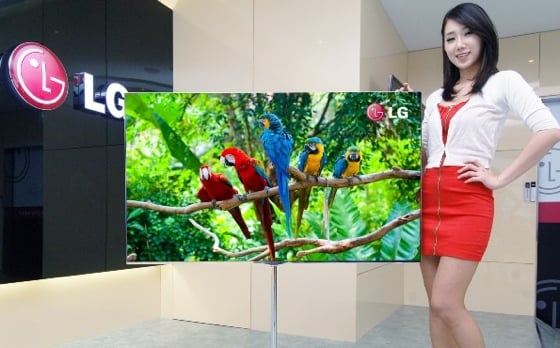 Work detail: LG's 55in OLED TV has a 3840 x 2160 resolution
iSuppli believes punters will pay perhaps 20 per cent extra for OLED's low energy consumption and better-than-LCD picture quality, but no more.
Samsung and LG seem to be attempting to make that happen. LG said it hopes to sell its 55in OLED TV for $4000 in 2013, although similar size LCDs will be down to $1000 by then.
And Sony? At CES, it reiterated that it will continue to explore OLED as the basis for future flat-panels. But then it also used the show to demo a screen based on regular, inorganic LED it calls "Crystal LED".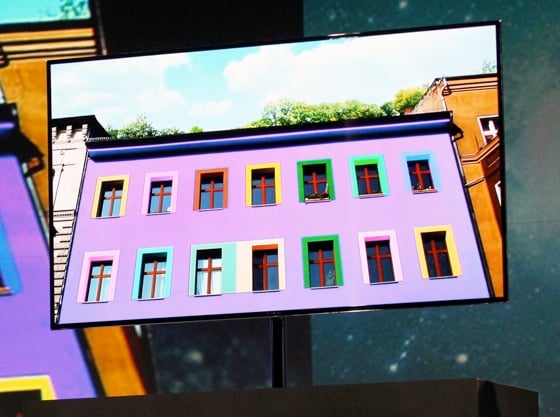 Samsung wants its 55in OLED TV in your house this year
That's a term conjured up by marketing people not scientists, and Sony admitted that it was unable to say when the release of a Crystal LED screen might become commercially feasible. Sony, like other TV makers, loses money on its LCDs, and demos like Crystal LED are more about persuading financial markets that the company has a future in the business than telling punters what they'll have in their living rooms many years hence.
Hopefully, the more concrete plans of Samsung and LG will ensure OLED TV technology doesn't have to go through another five-year hiatus before becoming ready for the rest of us. ®
Sponsored: Minds Mastering Machines - Call for papers now open