Dell fluffs up fatter Microsoft private clouds
More huffing and puffing later this year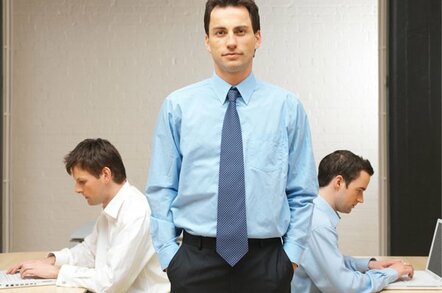 Dell is hedging its bets in the private cloud war that is ranging between VMware and Microsoft and has crafted two different versions of its vStart prefabbed clouds: one to run the vSphere stack (and thus ending with a "v") and another the Hyper-V-Systems Center stack (and thus ending with an "m"). Dell is today rolling out the largest Microsoft vStarts and promising to build even larger machines later this year to support both stacks.
Dell puffed up its initial vStart 100v and 200v private clouds back in April 2010 supporting the then-current ESXi 4.1 hypervisor from VMware, and the idea was to have a pre-loaded and pre-tested rack of machines ship up at the loading dock of your company, ready to be rolled into the data center or data closet and start accepting virtual machines and marching orders.
In September, Dell rolled out the smaller vStart 50 private clouds based on a leaner configuration and roughly supporting the number of virtual machines in its model designation. (The vStart 100m and 100v support 100 VMs, etc.) Also back in September, those vStart 100 and 200 configurations were certified to run the Hyper-V and Systems Center combo.
With today's announcement, Dell is updating the iron in the vStart 100 and 200 stacks and promising to offer together integration with the forthcoming Systems Center 2012, which is due sometime in the first half of this year. The updated vStart 100 and 200 configs support the current Systems Center 2007 R3. In either case, according to Benjamin Tao, director of virtualization solutions at Dell, the key integration is that Dell's Advanced Infrastructure Management (AIM), which pools physical and virtual services together to be managed centrally, is integrated with the current Systems Center Opalis orchestration tool and will similarly be integrated with the forthcoming Systems Center Orchestrator 2012. Systems Center handles patch management and provisioning, but AIM handles service levels and reprovisioning workflows and the two together can move workloads around a private cloud as iron needs to be fixed, shut down to conserve energy, or fired up to support more workloads.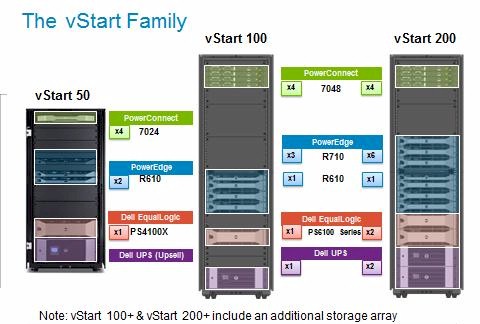 Dell's vStart private clouds
The updated vStart 100m has four PowerConnect 7048 switches which have 48 Gigabit Ethernet ports each. The rack holding the private cloud has a PowerEdge R610 rack server as a management server and three R710 rack servers for hosting virtual machines. (These are all two-socket Xeon boxes.) For external storage for VMs, the vStart 100m has one EqualLogic PS6100x array. The full rack has one power distribution unit, KVM switch, and uninterruptible power supply as well, and the machines have one full license of Windows Server 2008 R2 with Hyper-V. Systems Center Essentials for Hyper-V and the Virtual Machine Manager (SCVMM) add-ons for Hyper-V are optional, meaning not built into the bundled price but practically speaking, not really optional at all. This configuration costs $119,900, or roughly $1,199 per VM.
The tweaked vStart 200m config adds three more PowerEdge R710 servers, one more EqualLogic PS6100x array, and one more UPS and costs $209,900, or roughly $1,050 per VM. The vStart 200m announced today also has one other thing: Microsoft's Private Cloud Fast Track blessing, which is Redmond's guarantee that the software stack on this vStart all works together properly. Mark Hassall, marketing director at Microsoft's Server and Tools Business division, tells El Reg that the vStart 50v and 100v machines don't have this special validation because they are too small.
All vStart machines have initial deployment services from Dell – meaning an engineer actually shows up and helps you port some VMs to the iron – and three years of pro-level support from Dell for the whole shebang.
Tao was not about to pre-announce future vStart products from Dell, but said that the company was cooking up configurations based on its own Force10 Networks switches and fatter Compellent disk arrays to support much large private clouds based on either ESXi or Hyper-V. Tao did hint that these fatter setups would probably be based on denser PowerEdge blade server configurations rather than the rack servers used in the vStart 50, 100, and 200 chunks o' cloud.
Presumably, should Red Hat's Enterprise Virtualization commercial-grade KVM hypervisor take off or Citrix Systems' XenServer get better traction in corporate data centers, there should then be "r" and "c" variants of the vStart in the future.
The vStart 100m and 200m machines are available in the United States now, and will roll out in the next few months across Europe, the Middle East, and Africa and around the middle of the year in the Asia/Pacific-Japan region. ®
Sponsored: Minds Mastering Machines - Call for papers now open