Remote-controlled Star Wars kit blown up
Inflatable Empire
Toy Fair 2012 Gadget specialist Bladez Toys is to cater for the Star Wars collective with a handful of officially-licensed remote-controlled inflatables based on characters from the films.
The Star Wars (ahem) Pump and Play is essentially a run-of-the-mill RC vehicle with an inflatable - at least 65cm in height - fixed to the top. The blow-ups are interchangeable and can be bought separately.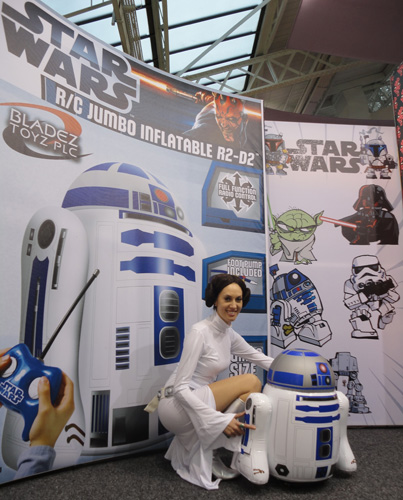 The company had its prototype R2-D2s on show at the Toy Fair 2012 in London this week, but several others are on the way, including Darth Vader, a Stormtrooper and Yoda.
Nothing spectacular by any means, but still worth a pump perhaps?
The Bladez Toys Star Wars Pump and Play comes with a foot pedal and hits shelves this autumn for £40. ®
COMMENTS
Shame the pump-up Princess Leia looks nothing like the real thing.
Then again I guess that's par for the course too
Who in their right mind ...
... oh. I see. Never mind. As all y'all were. Carry on.