Sony SVR-HDT1000 Freeview+ HD DVR
No-nonsense telly recorder with HDD archiving
However, as a Freeview HD box it is compatible with the terrestrial service's slow-moving IPTV machinations. Journey to the distant end of the programme guide and you'll find streaming 'net channels in slots 110 to 115. While several of these have yet to be activated, both China 24 (aka CCTV) and Sports Tonight are live.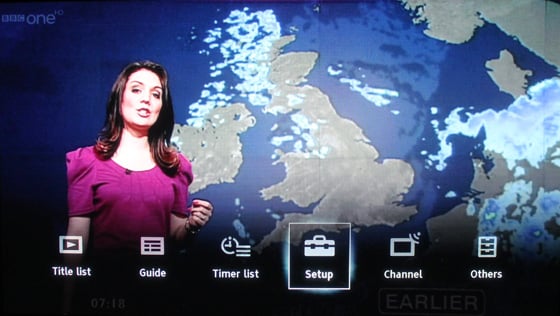 Menu options
The BBC iPlayer is also accessible, albeit from the Red Button menu on the standard definition version of BBC One. Although ostensibly a Red Button service, it requires the deck to be on-line to work.
This convolution aside, the deck is a doddle to use. It employs a generic Freeview HD EPG and recordings appear under the Title List tag. Naturally, as the DVR is Freeview HD enabled, any recording request prompts an immediate offer to timeshift in hi-def if the show is available. There's also provision for series linking.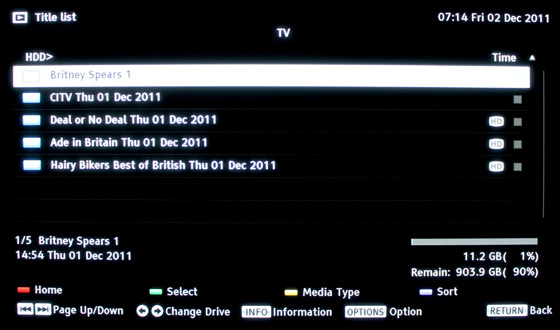 Recordings listing
While there's no video media playback from USB, the deck's media reader can display JPEGs and play MP3s, albeit without album art. You can also move this content from USB onto the deck's hard drive, allowing the SVR-HDT1000 to function as a media jukebox.
Once you've done this, you can filter hard drive content by category, helpful when you begin to max out drive space. 
 Recorded image quality is true to source; I noted no recording-induced artefacts. Hi-def programmes look beautiful, with plenty of fine detail in evidence.

No frills but fuss-free
Not only can you move music and photo content onto the drive, you can also export recordings off. This ability to archive from the HDD is most welcome. Not only does it guarantee you'll never run out of room, you can also bank entire seasons of shows on external drives, which could save a few bob on Blu-ray boxsets down the road. There are caveats, of course. Recordings are made using the XFS file system and remain locked to the deck they originally came from.
Verdict

Overall, the SVR-HDT1000 can be considered an accomplished Freeview HD TV+ recorder. It may lack some of the connected frippery and complexity of its rivals, but it's eminently usable, refreshingly quiet, and pleasingly versatile. ®
More AV Gear Reviews

Yamaha
RX-V471
AV receiver
Ten... Blu-ray
disc players
LG
BD670
3D Blu-ray player
Ten… Freeview HD
recorders
Marantz
NR1602
AV receiver
Sponsored: Fast data protection ROI?

Sony SVR-HDT1000 Freeview+ HD DVR
Freeview HD+ DVR with HDD archiving