Tablet, e-reader ownership doubles over Xmas
Volumes of demand
Tablet and e-book reader ownership almost doubled in the US over Christmas.
Think-tank the Pew Research Centre spoke to a thousand or so grown-ups in the States this month and discovered that while ten per cent of the adult population owned an e-book reader in December 2011, in January 2012 the figure had risen to 19 per cent.
Coincidentally, tablet ownership also increased from ten per cent of the adult population to 19 per cent in the same period.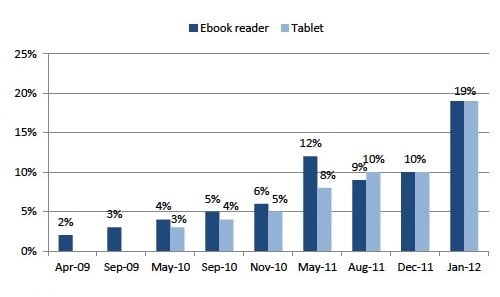 Source: Pew Research Centre
While tablets have, over time, been acquired by more and more Americans, that's not the case with e-book readers, Pew found. Ownership of these devices increased through to May 2011, reaching an adult population share of 12 per cent.
But during the latter part of 2011, ownership declined to ten per cent, as measured by Pew in August 2011 and December 2011. Back then, it looked as if the tablet was indeed pushing the e-book reader out of the public eye.
We'd say the low cost of e-book readers - Amazon's Kindle has never been cheaper, and other vendors, such as Sony have cut prices too - pushed up ownership through Christmas presents. Will recipients make use of their gifts - or spend their own money on a shiny, colour tablet as soon as they can?
Pew's numbers show tablet ownership to be pretty much equal across gender and race lines. Unsurprisingly, the more folk earn, the more likely they are to own a tablet. Ditto, the better educated they are, though these factors are closely tied.
It's mostly the same demographic story with e-book readers, though there's a slightly higher female ownership. The mid-line of the curve above the age bands is also closer to the middle of the chart - tablet owners tend to be young to middle-aged.
A recent survey conducted in the UK by pollster YouGov put the post-Christmas e-book reader ownership at 2.5 per cent on the adult population here.®
Sponsored: Minds Mastering Machines - Call for papers now open