Car gadget cuts off driver's smartphone
Hands on the wheel, son
Scosche has addressed in-car safety with its latest device, a plug-and-play solution to limit smartphone activity while a user is behind the wheel.
The Scosche CellControl connects to a vehicle's OBD-II interface. It also pairs with a smartphone app through Bluetooth. When the device detects the vehicle is in motion, it tells the phone to disable all functionality except hands-free calling.
OBD-II (On-Board Diagnostics) is a standard port found on all US vehicles sold from 1996 onwards. It's also been fitting to European petrol cars since 2001; here it's called EOBD (European On Board Diagnostics).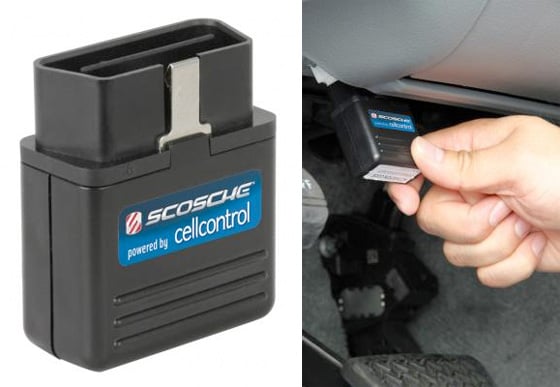 Texting, emailing, web-access and applications are all incapacitated by CellControl, although users are allowed to play music. The system is also tamper-proof, alerting admin if there are any signs of removal, deactivation or misuse.
Yes, those law-breaking kids won't be bypassing this one easily.
CellControl will only affect handsets registered to the device, so passengers can continue fiddling with their mobiles and distracting drivers from the side. It has been claimed that having such hardware in place may qualify drivers for insurance discounts.
As it stands, the software only runs on Android and BlackBerry handsets, with some older Windows Mobile and Symbian S60 handsets also supported.
Apple's is reluctant to approve apps that modify a handset's functionality, so it seems unlikely CellControl will materialise on iOS any time soon.
The Scosche Cell Control safe driving system is available now for $130 (£83). We'll let you know when it becomes available for those of us who drive on the left side of the road. ®
Sponsored: Minds Mastering Machines - Call for papers now open