IPTV UK: what's on tonight?
Worth watching yet?
Paying the price
If you're using a set-top box, or a games console, the selection changes again.
But what of the content? Most of the services are based around major movies, though Netflix, Lovefilm and BlinkBox all have a selection of TV content too. There are also some notable niche options like FetchTV's live Hellenic TV, concerts and music, and indie movies packages, which provide all-you-can eat streaming of sections of their content. BT Vision similarly has themed categories in addition to its pay per view content.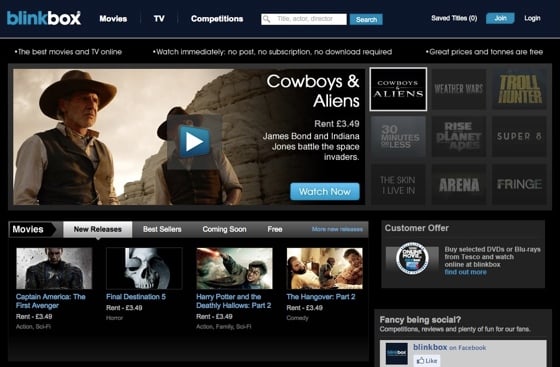 BlinkBox appears on the web and on some smart TVs
While catch-up services are available for free, most of the others – though see below – expect you to buy or rent content. iTunes, for instance, allows both rental and purchase of films, but doesn't have TV rentals in the UK.
AceTrax and BlinkBox both have some items to rent and some to buy. Annoyingly, sometimes you can only buy when you might want to rent. The Danish series The Killing is for sale on BlinkBox for instance, at £17.99 for series 1 and £14.99 for series 2, but you can't simply rent it.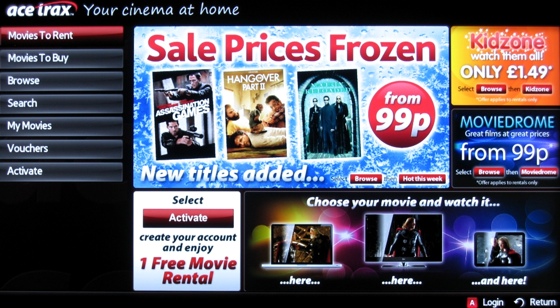 Ditto Acetrax
If you're a 'box set' type of person, prices can vary quite a lot, and Netflix has a lot of material available to stream. Series 1 of Spooks is available on Netflix; you can also buy it for £7.99 on iTunes, or £9.99 on BlinkBox.
iTunes has plenty of classic Doctor Who, at around £4.99 a story, with the new series coming in at £20 for the lot. BlinkBox has series 4 at £1.89 per episode, while Netflix has seasons 1 to 4.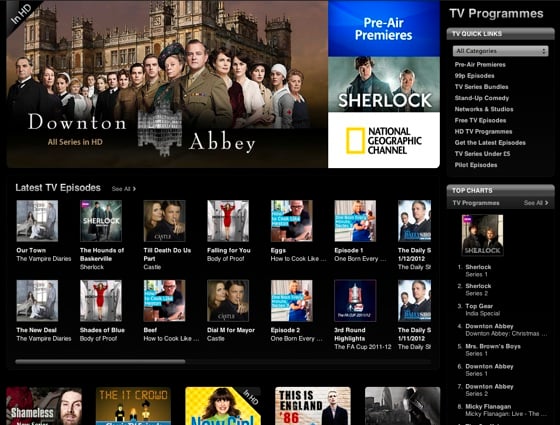 iTunes' music may be DRM-free, but its video content isn't - but there's a lot to buy
The more criminally inclined will find shows like Morse at £4.99 and Prime Suspect at £2.99 per series on iTunes, or on Netflix. Film prices vary too; the Swedish version of The Girl with the Dragon Tattoo with English audio isn't available on Netflix, but it is available with Lovefilm's streaming service. You can rent it from AceTrax for £2.49 or buy it for £8.99, rent from BlinkBox for £2.99 or buy for £6.99, while iTunes offers it to rent at £2.49 in SD and £3.49 in HD and buying prices of £9.99 or £13.99, respectively.
Also worth noting is that some new material appears on sites like iTunes very quickly. You can buy the recent series of Sherlock on iTunes for £10.99 in HD. At the time of writing, however, you could also watch it on iPlayer completely free, though only for a short time.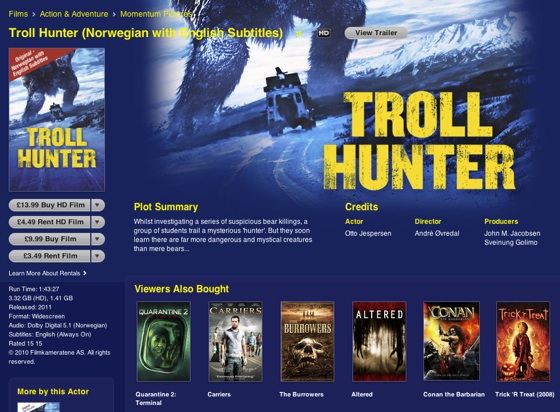 iTunes has SD, HD; buy and rental options
Check too how buying works. iTunes provides downloads, tied to your Apple Store account. BlinkBox and Acetrax allow you to watch online from your digital library, or you can download to a single PC. If such a service disappears and you've not already downloaded your purchases, you may well lose them altogether.
Sponsored: Minds Mastering Machines - Call for papers now open